4th Annual International Women's Day Bike Ride Spreads the Message of Diversity, Equity, And Inclusion
January 11, 2023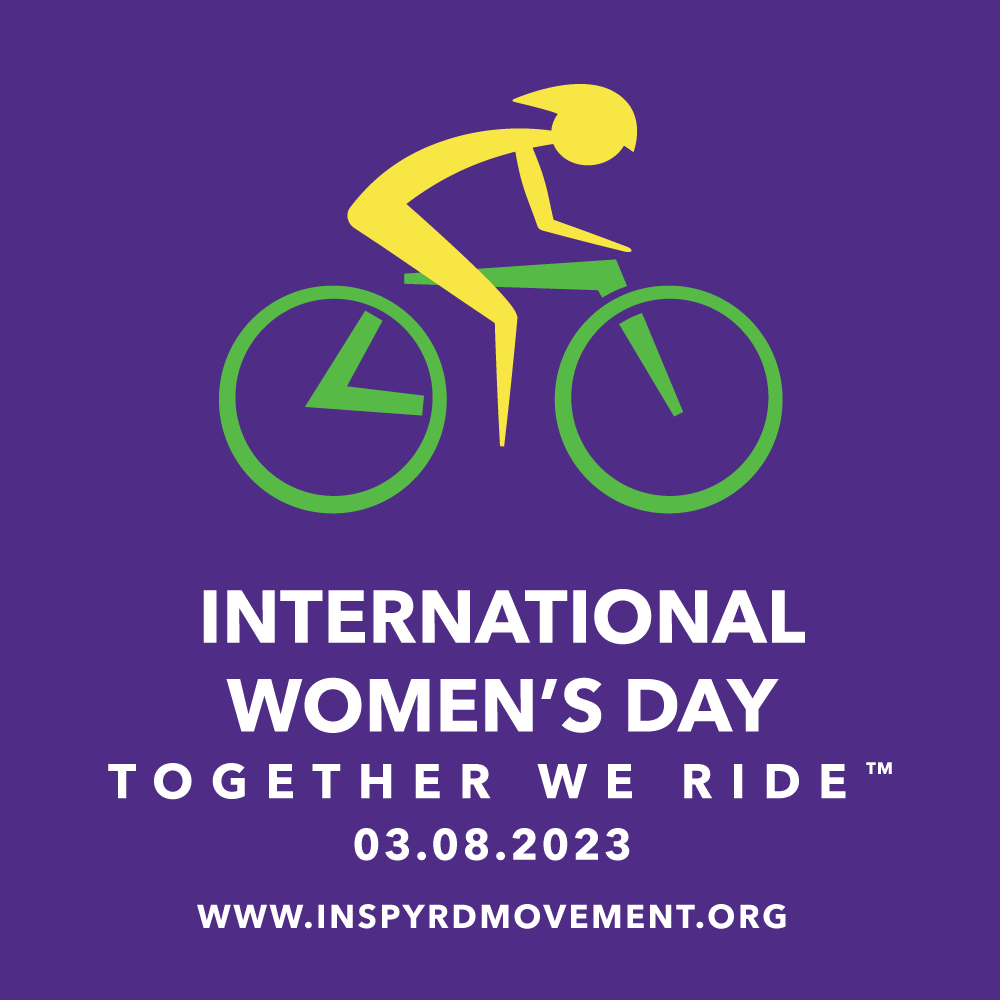 Growth in partnerships and event participation enables a donation to World Bicycle Relief
LOMBARD, Illinois /SPORTSWIRE WOMEN/ – On March 8-12, 2023, nonprofit Inspyrd Movement™ will be hosting their 4th annual International Women's Day – Together We Ride™ global cycling event. As in years past, participants are encouraged to ride their bikes anywhere, any distance, outdoors or inside, in a group or solo ― just move!
A YEAR OF GROWTH
In 2022, founder Dawn Piech took her message of diversity, equity, and inclusion on the road by speaking at several in-person and virtual industry events. These included the Philly Bike Expo and the Ride Illinois Bike Summit, National Bicycle Dealers Association's (NBDA) Women in the Bicycle Industry webinar and will continue in February 2023 with CABDA Midwest and the Chicago Winter Bike Swap.
"The reaction to the Inspyrd Movement mission and the Together We Ride event has been incredibly positive," stated Piech. "Since we don't require registration for the event, capturing participating riders is difficult. But in 2022, we recorded over 1,100 cyclists from 28 US states and nine countries, with riders ranging from five months to 87 years old." The organization expects 2023 numbers to exceed 1,800 riders in 35 states and 20 countries.
Based in Lombard, Illinois, many riders and clubs are from the immediate area. But outside the Midwest and US, the event's awareness and growth are primarily driven through social media. This year their Facebook group has grown to over 3.3K members.
GIVING BACK THROUGH EXPANDING PARTNERSHIPS AND SPONSORS
Piech, along with her dedicated and passionate team of volunteers, continues to build awareness for the nonprofit by expanding strategic collaborations among similar organizations that embrace the "Together We Inspire" theme — for example, sharing a booth with Black Girls Do Bike at the Philly Bike Expo.
To commemorate the 2023 event, the organization collaborated with the woman-owned cycling apparel company, Jules Threads, to create a jersey, buff, and t-shirt. Proceeds from the sale of these items will fund Inspyrd Movement's charitable donation to World Bicycle Relief. WBR empowers individuals to access education, healthcare, and economic opportunities through life-changing bicycles.
As part of the organization's "Together We Inspire" initiative, they seek to work with companies to donate to local women's shelters. This initiative encourages participants to support local women-owned businesses, bike shops, and organizations. Side Lot Brewery will again brew a special Together We Ride beer and donate $1 for every one of those beers sold to WINGS, a local women's shelter. And the organization will host another virtual "Together We Meditate" session on Sunday, March 12, at 6 PM CST.
The organization continues its work to secure additional sponsors and partnerships, including a group ride on a virtual cycling platform and a ride challenge on a fitness app.
Images and logos for the event are located here. Co-branded and promotional materials will be available in the near future. For more information regarding sponsorship opportunities or event information, go to the organization's website or Facebook page. Media interviews with Dawn Piech are available upon request; reach out to the PR contact at the top of the press release.
About Inspyrd Movement 
Inspyrd Movement™ is a Lombard, Illinois-based nonprofit (501c3) organization founded in 2021. Our mission is to inspire individuals to elevate diversity, equity, and inclusion through the act of movement. Our philosophy is to promote unity by decreasing barriers to movement-based activities. Inspyrd Movement advocates for positive social change by creating a more equal world through movement.
###
Media Contact:
Sheri Rosenbaum
M: 847-971-4573