A Family Affair at She Tris
September 6, 2022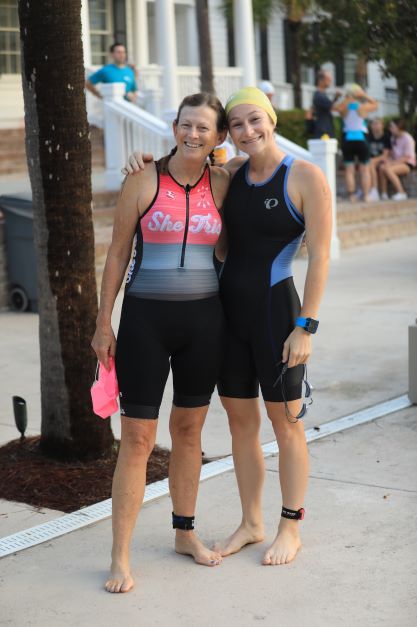 Multi generations of women take part in the all women triathlon series
Charleston, SC (September 6, 2022) /SPORTSWIRE WOMEN/ – If you're local to the Charleston, SC area, you've probably heard or read about the all-women short distance triathlon events called She Tris Sprint Triathlon. Started by Angela Klick of Mt. Pleasant, the event series is designed to welcome women to a sport in a very encouraging and beginner friendly environment. While the majority of participants tend to be women in their 40's, anyone aged 10 and up can participate and there are several participants in their 70s still crossing the finish line. Sometimes, this all women event can even become a full family endeavor.
At the recent Crews Subaru She Tris Sprint Triathlon held at Hamlin neighborhood (Mt. Pleasant) on August 21, several mothers and daughters participated and celebrated together at the finish line.
"We just love it when we see a daughter who has watched her mom tackle the sport and is now inspired to participate herself! The emotions at the finish line are tough to match at any other event," says Klick.
One of the mother/daughter pairs, Heidi (59) and Rachael (28) Herman, took a few minutes to tell us about their experience and why they decided to do this event together. Heidi was the first to start in the sport, encouraged by a friend, but it was a later in life find for her. Rachael attended her mom's first tri and was "inspired" to join her this year at Hamlin. Heidi said, "It was so fun to have Rachael do something for the first time with me that I had done before," and Rachael added, "I loved seeing [Heidi] on the bike course a few times and at the finish line." Both Herman women had successful days at Hamlin with Rachael coming in first overall and Heidi taking 3rd in her age group. The Herman ladies also had their biggest fan, Robert Herman (husband to Heidi, father to Rachael) on site cheering them on and volunteering on the bike course.
Another duo, Danielle (51) and Leddy (18) Scheurer of Mt. Pleasant took part in the Hamlin event. Danielle is fairly new to the sport, but loves how each event "feels like it is everyone's personal race, and doesn't feel like you are competing against anyone other than yourself" adding, "It is incredibly inspiring to see those much younger and much older than me getting out there!". She and daughter Leddy enjoyed this event together before taking off to Washington D.C. for Leddy to start college.
She Tris events typically involve a 200-250 yard swim, a 8-9 mile bike ride, and a 2-3 mile run, all depending on the course. The series offers duathlon options (run, bike, run), as well as relay options for their events.
On September 24 at Carnes Crossroads in Summerville, the She Tris team will host their final event of 2022, and this event also includes a girls event that includes girls as young as 5 years participating in an abbreviated course!
How else can the family be involved? She Tris encourages friends and family of their participants, especially the guys, to come out and spectate or, better yet, volunteer on the course! No triathlon experience is required for volunteers and it is a great way to see your favorite athlete or learn a letter more about the sport.
About She Tris Sprint Triathlon
She Tris was started in 2016 by Angela Klick to provide a high quality triathlon experience for women regardless of whether they were new to the sport of a seasoned triathlete. She Tris is the only pool swim triathlon and women only triathlon in the Charleston area and currently offers 3 regional events for women throughout the year. Every year a percentage of our proceeds benefit area organizations like Tri It For Life, local ROTC clubs, and local swim teams. Interested in sponsorship? Contact Sarah@shetris.com.
Media Contact
Sarah Hays
Champion of Enthusiasm
sarah@shetris.com
843-323-7715