Be Inspired Brands (formerly ZOOMA Women's Race Series) Acquires She Runs This Town
June 1, 2022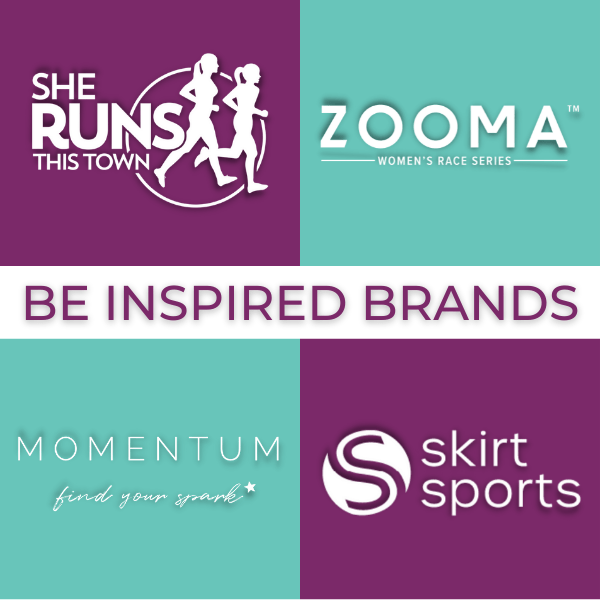 Becomes Most Comprehensive Women's Running Organization
June 1, 2022, Orlando, Florida /SPORTSWIRE WOMEN/ – Be Inspired Brands, the owner of Skirt Sports, Momentum Jewelry and ZOOMA Women's Race Series has acquired She RUNS This Town/Moms RUN This Town, effective June 1, 2022.
"I am thrilled to be adding She Runs This Town to our family of brands. We welcome all She RUNS This Town/Moms RUN This Town members with open arms. The future of the community we are building is full of endless possibilities." says Sarah Ratzlaff, Chief Inspiration Officer at Be Inspired Brands. "Our family of brands feels complete with this addition
She RUNS This Town/Moms RUN This Town is a national organization of over 500 women's running clubs whose goal is to motivate, inspire, celebrate, and encourage ALL women in ALL stages of life. Chapter leaders throughout the United States facilitate local chapters and add strength to the overarching community. Within SRTT/MRTT, everyone has a story to share and advice to offer. The club is set apart by the fact that focus is not put on speed or ability – but to include every woman runner in every stage of fitness.
Be Inspired Brands first began as ZOOMA Women's Race Series in 2017. Created by women, for women, ZOOMA began as a series of women's destination half marathons but has since grown into a tight-knit community of female athletes  through races, virtual fitness challenges, training plans, inclusive athletic wear, and, most recently, ZOOMA Run Club.
In 2020, Be Inspired Brands also acquired Skirt Sports, the first-ever brand to conceptualize and market the running skirt, making Skirt Sports a leader in the women-led athleisure space. Today, Skirt Sports is more than just skirts, providing top-quality pieces such as leggings, bras, tops, and much more for athletes of all sizes and sports preferences.
In 2021, Momentum Jewelry joined Be Inspired Brands. Momentum has been empowering and inspiring a whole community of people from a variety of backgrounds to grow and tackle their greatest achievements with the help of inspirational jewelry created just for them.
The running market for women has grown quickly over the last 15 years and now, according to the data from Running USA, women represent more than half of the recorded finishers each year. The demand for female-focused events and apparel has grown as well, creating a huge market for athleisure and workout apparel.
With the acquisition and combination of these four brands, Be Inspired Brands becomes one of the most comprehensive women's running organizations in the world.
"I envision this family of brands growing to be a huge community that supports and embraces all women," said Ratzlaff. "We look forward to bringing women together and empowering them to be comfortable in their own skin regardless of age, size, skin color or level of fitness."
For more information, please visit SkirtSports.com. Media or partnership inquiries can be directed to skirtsports@beinspiredbrands.com
###