Join Liv Ladies AllRide: Powered by SRAM Mountain Bike Skills Camps Returns for 8th Season
February 3, 2022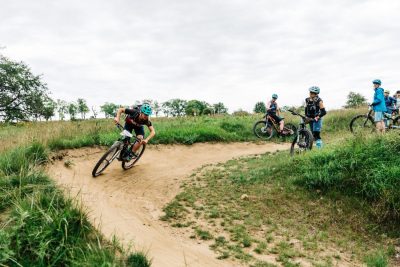 Registration is now open for women interested in learning or leveling up their skills
BEND, Ore. (Feb. 3, 2022) /SPORTSWIRE WOMEN/ – Ladies of all mountain bike skill levels, from beginner to seasoned rider are invited to join Ladies AllRide for its eighth season of mountain bike skills camps in inspiring destinations around the country this spring through fall. Registration is now open at www.ladiesallride.com for those interested in gaining knowledge and skills from experienced coaches, and having fun on mountain bikes in a welcoming and encouraging environment.
"Learning how to mountain bike with Ladies AllRide has been one of the most empowering experiences of my life. It has taught me that I am physically and emotionally strong, that I have the mental and emotional fortitude to do intimidating things, and it has shown me that I can evolve indefinitely," said Katherine E., Sedona participant in 2018. "LAR celebrated all of those things and gave me the skills to keep progressing."
Ladies AllRide has 14 camps scheduled this season at locations including:
April 30 – May 1

May 14

May 15

June 4-5

June 21-22

June 25-26

July 16-17

July 19-20

August 20-21

August 24-25

September 10-11

October 3-7

October 25-26

October 29-30

Bentonville, AR

Bend, OR / Half Day Mini

Bend, OR / Half Day Mini

Bend, OR

Bend, OR (Tues/Wed)

Bend, OR

Grand Targhee, WY

Grand Targhee, WY (Tues/Wed)

Lyndonville, VT

Lyndonville / Burke Mountain, VT (Wed/Th)

Whitefish, MT

Flathead Lake Lodge, MT (5-day/4-night retreat)

Sedona, AZ (Tues/Wed)

Sedona, AZ
Lindsey Richter, founder and director of inspiration at Ladies AllRide, has been involved in the bike industry for 20 years. After 10 years traversing the country riding, racing, promoting products and sponsoring a kids' race team, she had a vision to get more women into mountain biking. She became certified to teach in 2010 and has since taught mountain biking full-time around the world.
"My personal mountain bike journey taught me technical skills and the relationship between mountain biking and life – keep the wheels and myself rolling forward by thinking positive thoughts. Mountain biking has helped me with mental health and realizing what I'm capable of, to trust myself more and how to get past obstacles. I wanted to pay this knowledge forward by helping as many women as possible discover their full potential on and off the bike.
Our incredible team of certified, skilled, and passionate coaches are committed to our mission to help more people who identify as women reap the benefits of mountain biking. We not only teach valuable bike handling skills, we also inspire them to ride through any insecure, fear-based thoughts that inhibit growth and success on a bike and in life. We provide the tools to help women understand that the same skills their bikes need from them to get over obstacles – determination, balance and momentum – apply equally to their lives," said Richter. "That's when the magic happens!"
Liv, the company dedicated to getting more women on bikes, has supported Ladies AllRide since the beginning and continues as title sponsor in 2022. The two brands are thrilled to continue their joint missions to inspire women together with bikes. Participants can demo and learn about Liv mountain bikes and LAR will continue working with the Liv global marketing team to reach more women around the world.
"Like Liv, Ladies AllRide has been focused on getting more women and girls on bikes and making mountain biking more inclusive," said Brook Hopper, Liv global marketing manager. "Lindsey, Meredith and their team of experienced coaches have proven to be instrumental not only in building the confidence and skills of women who ride but also by building community and creating more opportunities for women to experience the joys of mountain biking. We are incredibly proud to continue our long-standing partnership with Ladies AllRide."
An important component to the camps are the education stations where women learn about setting up and adjusting suspension, fixing flat tires, bike maintenance, gear, facing fear and so much more. And then of course there are the raffle prizes thanks to so many great sponsors!
"SRAM is proud to support the Ladies AllRide Program. You would be hard pressed to find a program that has put more miles on the black top traversing the country, and now the ocean, to get more women on bikes," said Sara Jarrell, SRAM global community manager. "Lindsey, Meredith and the whole team are passionate professionals and their program is helping change the face of the bicycle industry – one camp at a time."
"We are really excited to partner with so many incredible companies in the outdoor industry. More and more brands are seeing the value of welcoming more women into mountain biking as a way to grow our sport and education-based camps like Ladies AllRide empower and inspire women to become passionate cyclists and life-long riders," said Meredith Brandt, Ladies AllRide CEO. "We are really grateful to see the commitment from so many awesome brands to becoming more inclusive in the mountain biking community."
The Ladies AllRide team looks forward to playing on bikes with women at one of their epic locations in 2022. Visit the website for more information and to register now. www.ladiesallride.com
Contact: info@ladiesallride.com 
About Ladies AllRide
Founded by certified mountain bike coach Lindsey Richter in 2010, Ladies AllRide offers an annual series of professional, energizing, and inspirational mountain bike skills camps. These events bring adults ages 18+ who identify as women together in a welcoming environment to improve their riding and build community. There are 14 signature Ladies AllRide events in epic riding locations around the United States. Learn more at www.ladiesallride.com. #RideBikesBeHappy