Kat Matthews Rises to the SUB8 Challenge
April 13, 2022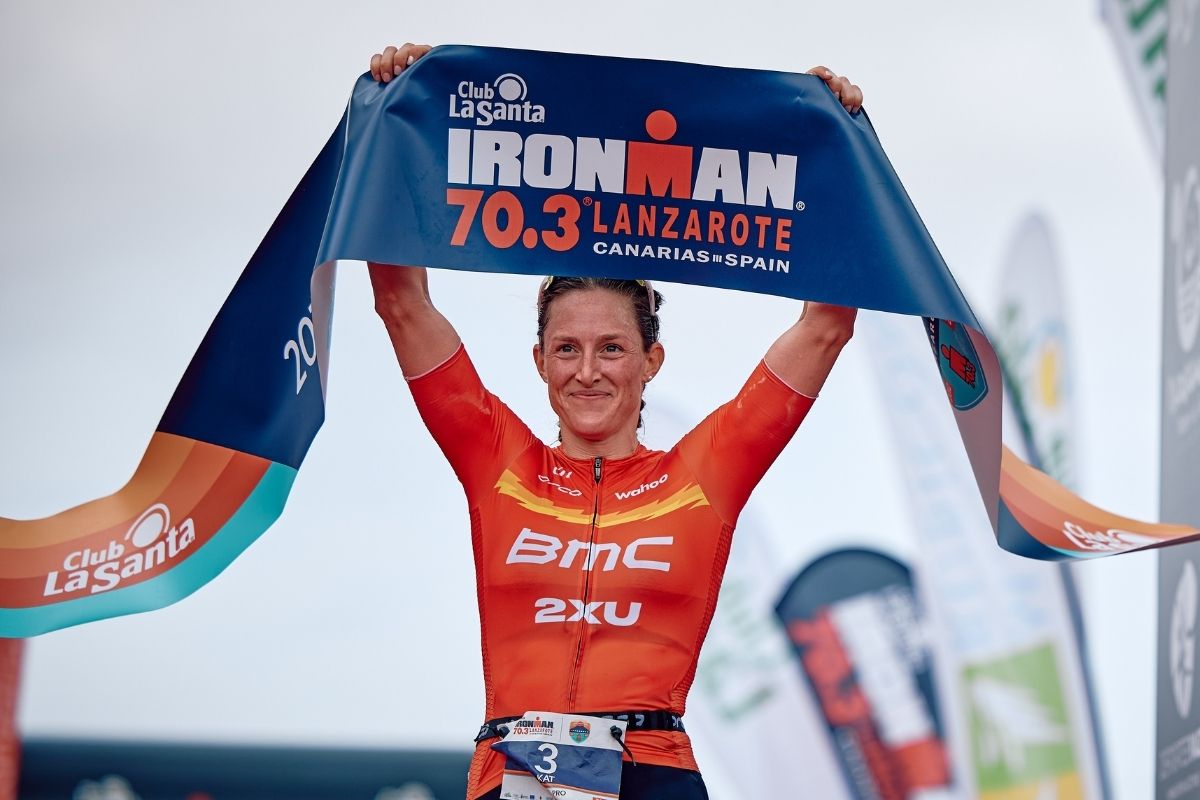 World #6 Signs onto SUB8
Sydney, Australia – 13th April, 2022 /SPORTSWIRE WOMEN/ –European champion Kat Matthews has signed on to the Pho3nix Sub8 Project, Powered by Zwift. The third-fastest British female long-distance triathlete and national time trial cycling champion is the newest contender for the audacious attempt to race the full distance of triathlon in under eight hours.
After Ironman 70.3 world champion Lucy Charles-Barclay was ruled out of Sub8 due to a hip bone fracture, Matthews was quick to rise to the occasion and take on the challenge of swimming 3.8 kilometers, cycling 180 kilometers, and running 42 kilometers faster than anyone ever before. Though the attempt will be aided by a team of pacemakers and cutting-edge technology and logistics, in the end it will still be a triumph of physiological preparedness and mental acuity for any athlete to go under the mark.
"I'm a relative newbie to the sport and the iron distance is certainly one where experience is of high benefit. Most would assume I would not be a contender and that achieving this would be impossible," Matthews admits. "However, as soon as I heard of the attempt, I wanted to be involved. It sparked my interest intellectually as well as physically. I see my sporting endeavours as a case study for constant learning and improvement. I have yet to find a plateau in my physical improvement in any area, and this evolution keeps me right at the edge of passion and motivation for absolute excellence."
As an Army physiotherapist, Matthews pursued a longtime interest in the human body and health helping injured soldiers get back to fighting fitness. It was in that environment she began exploring triathlon, going from grassroots sprints to winning middle distance races outright as an amateur to earn her pro card.
With a slew of wins and notable performances in the past three years including winning Ironman Florida to set the third-fastest full distance time set by a British female, topping Ironman UK, and dominating this year's Ironman 70.3 Lanzarote, Matthews has put the world on notice.
Now only seven years after she first began doing triathlons, she puts herself on an even steeper trajectory to sporting greatness lining up to race against dual Olympic medallist Nicola Spirig. Matthews says, "Nicola's accolades in the sport over the last 25 years puts her as a legitimate candidate as the sport's Greatest Of All Time across both male and female athletes. To race against Nicola here is truly a once-in-a-lifetime opportunity. I hope to be a worthy contender."
Pho3nix Foundation board member and MANA Global CEO Chris McCormack says, "Kat is a world-class athlete I've watched with much interest over the past few years. Getting herself and her 'tribe' of pacemakers together in such a short time frame is no mean feat, but she came ready and prepared. Kat has had a long-term alignment with the Sub8 Project: she was in early discussions with Lucy as part of her team and has also been engaged in a heavy training block with many of the pacemakers over the past six months. This made for a perfect transition into the lead racing role. With Kat's cerebral and disciplined approach to the sport I'm excited to see how she will tackle the puzzle that is Sub8 and the new race strategy she will bring in her pursuit to be the first to Defy the Impossible."
Regarding Charles-Barclay's further role, McCormack clarifies, "Lucy is still very much part of the team and having her still on board within our global commentary team and on the ground on race day brings a new lens to this groundbreaking attempt. Her journey in preparation and the insights she can offer on her fellow athletes racing will take our coverage to the next level. It's something that no one else could possibly have delivered."
To find out more about the Pho3nix Sub7 and Pho3nix Sub8 Project Powered by Zwift, visit the official website at: https://www.sub7sub8.com/
-ends-
For further information, please contact lisa.pringle@manaseg.com
About the Pho3nix Sub7 and Sub8, powered by Zwift
The Pho3nix Sub7 and Sub8, powered by Zwift will set a new world standard of human physical achievement as we set out to do what many believe is impossible. Featuring the world's greatest triathletes, the Pho3nix Sub7 and Sub8, powered by Zwift will deliver an unprecedented level of planning and world-best content and programming, engaging a global audience in this historic, sophisticated, audacious project that showcases human progress and inspires generations. The 18-month project will culminate with race day in 2022. More information is available at www.sub7sub8.com.
About Mana Global
Mana stands for power and prestige, with an unparalleled network and credentials in the wide world of sports and entertainment. We deliver our projects, programs and services with pride, boldness and authority. Led by two-time Ironman World Champion, Chris McCormack, the Mana team has been responsible for some of the most important innovations in triathlon, including Super League Triathlon, the Bahrain Endurance 13 Team, and now the creation and delivery of Pho3nix Sub7 and Sub8, powered by Zwift. More information is available at www.manaseg.com.
About The Pho3nix Foundation
The Pho3nix Foundation is a not-for-profit organisation created to promote physical activity as a way to improve the health and wellbeing of children, especially those from disadvantaged backgrounds.  Pho3nix Foundation's flagship programs fall under the Participation, Progression and Performance pathway. The Pho3nix Kids program motivates and inspires children to participate in physical activity; Pho3nix Future is a mentoring and educational program supporting the sports careers and long-term development of young athletes; the Pho3nix Athlete Program aims to support athletes looking to qualify for an Olympic Games; and the Pho3nix Elite program (which includes the Pho3nix Team and Pho3nix Sub7 and Sub8, powered by Zwift) supports and promotes athletes reaching for the pinnacle of their sporting careers. More information is available at www.pho3nixfoundation.com