Professional Cyclist Ayesha McGowan Presents Second Annual Thee Abundance Summit A Virtual Celebration for Black and Brown Folks in the Outdoors
March 1, 2022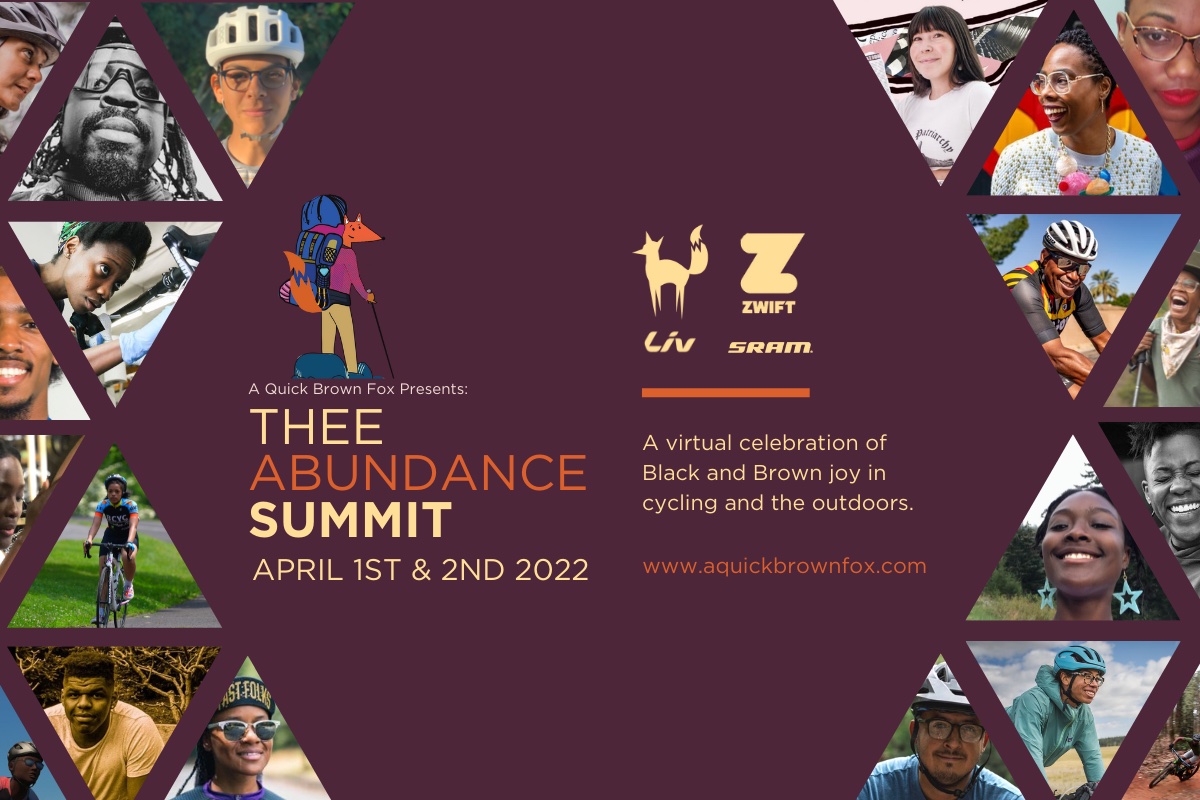 Atlanta, Ga., (March 1, 2022) /SPORTSWIRE WOMEN/ – Ayesha McGowan, the first African-American female professional road racer, launches her second annual Thee Abundance Summit, a virtual celebration and convening of Black and Brown folks in the outdoors. The event is for, by, and about Black and Brown folks, though everyone is welcome and invited to attend. Supported by Zwift, Liv, and SRAM, the event is free and will be streamed on YouTube on Friday, April 1 and Saturday, April 2.
"There is no such thing as too much Black and Brown joy," said McGowan. "That's why I'm beyond proud to present another year of celebrating my community and using the joy we bring to fuel opportunities for us and by us for years to come."
Co-hosted by Zahra Alabanza of Red, Bike, and Green ATL and Shequaya Bailey of The Black Foxes, Thee Abundance Summit will include:
A Keynote from Jay-Marie Hill of the Black Transcendence
Workshops ranging from Birding to Movement to Emotional Intelligence featuring LaToyaShauntay Snell, William Loyd, Jalen Bazile, Raquan Wilson, Guerdley Cajus, and more
Panels on insights from Black Business owners and previous Abundance Mini Grant Recipients
A Zwift Race announced by Ayesha McGowan and Shequaya Bailey
Tea Time with Ayesha McGowan featuring special guests
A Live DJ Dance Party with DJ Black Daria
There will be an opportunity for voluntary donations to the mini grant and micro grant programs McGowan is developing to help provide a pathway to inspiration, experience, and upgrade points for Black and Brown women who are amateur or beginner road racers. In 2021, the mini grant program received over 160 applications and was able to support eight adults and one junior with entries, housing, transportation, a food stipend, and a few additional resources for The Tour of America's Dairyland. In 2022, the program is growing to three additional races and a cat 3/4 composite team. Last year's participants have all gone on to chase bigger goals in bike racing, and create or maintain bike related programming within their own communities.
All panels and workshops will be accessible to the hearing impaired. For more information, visit www.aquickbrownfox.com.
In advance of the virtual event, McGowan is hosting Thee Abundance Zwift Training Series: A training series to help folks prepare for the mini grant program or whatever goals they have planned for the 2022 bike season, beginning March 21. This includes six rides over the course of two weeks and ends in a 90 minute road race. Carmichael Training Systems will provide coaching support and Team Abundance riders are co-leading the series.
About Ayesha McGowan
Ayesha McGowan is a professional road cyclist for Liv Racing and an advocate for better representation of people of color in cycling. Her work on diversity and inclusion in cycling inspires people to ride more, and to challenge their ideas of who counts as a "cyclist."  For more information about Ayesha visit www.aquickbrownfox.com.
###
Media Contact:
Devin Cowens
A Quick Brown Fox