Record-Setting ALS Athlete Launches the 50for50 Challenge to Celebrate Completing 50 Marathons in 50 States
April 6, 2022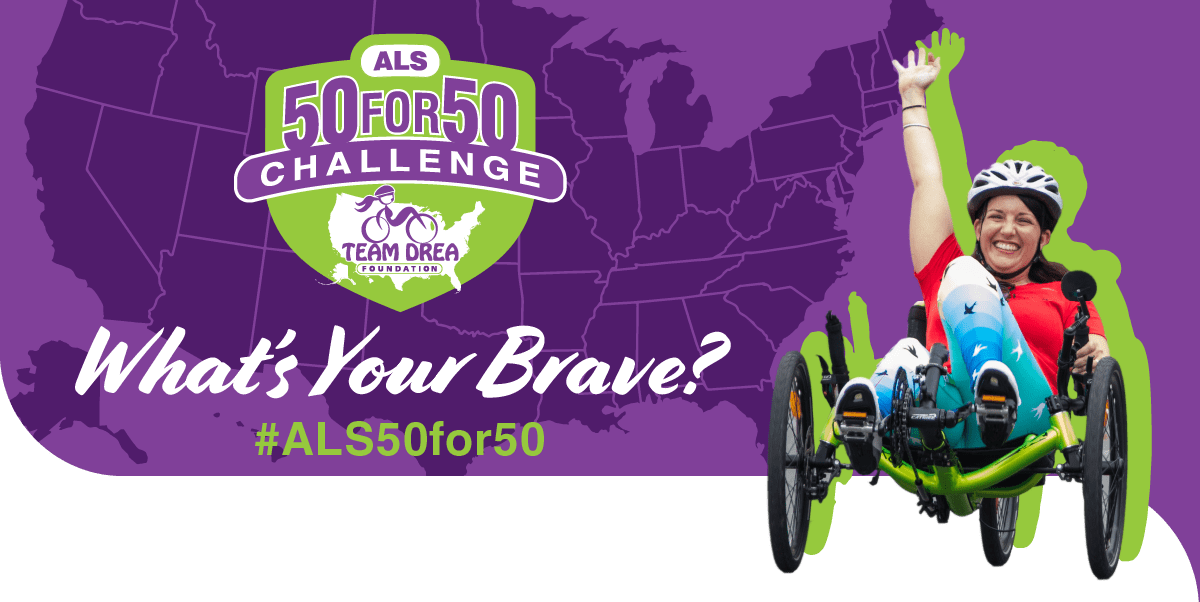 Team Drea Foundation seeks to raise $50,000 in 50 days through a new customizable wellness challenge
RALEIGH, N.C. /SPORTSWIRE WOMEN/ – As Andrea Lytle Peet draws closer to becoming the first person with ALS to complete 50 marathons and 50 states, the Team Drea Foundation is launching a unique customizable wellness challenge to raise funds for ALS research. The 50for50 Challenge, which begins on April 8, invites people of all abilities to commit to a goal related to the number 50. Those interested in participating can now register at teamdrea.org/ALS50for50.
Participants will choose their own personal goal, be it to do 50 push-ups daily, run a total of 50 miles, or complete 50 random acts of kindness. The challenge is free to participate in. Participants who raise or donate $50 by June 10 will receive a keepsake gift. The challenge can be joined anytime before May 28. Those taking on the challenge are encouraged to share their journey on social media with the hashtag #ALS50for50.
Peet has completed 48 marathons in 48 states to date over the last three years, a feat designed to drive awareness for ALS and to raise money for the foundation. Her final two events will be the Brooklyn Marathon in New York on April 24 and the Prince of Wales Island Marathon in Alaska on May 28. In total, she's raised over $750,000. Funds are used to support research efforts at both the ALS Therapy Development Institute and Duke University.
"I had no idea whether my body would sustain me long enough to complete all 50 races, After all, I had already lived 5 years with the terminal disease – a milestone that only 20% of people live to see," Peet shared. "Throw in a global pandemic and the feat seemed even more impossible. Now I'm just 50 days and two marathons away from completing this challenge, and it all began with being brave enough to start. That's what I hope to inspire through the 50for50 Challenge. I want people to  be brave in their own way and appreciate what their bodies can do."
ALS, amyotrophic lateral sclerosis, affects the nerve cells in the brain and spinal cord, eventually taking away the ability to walk, talk, eat, move or breathe.  Every 90 minutes, someone is diagnosed with ALS and someone dies from it. The average survival time after an ALS diagnosis is 2-5 years. For 90% of cases, there is no known cause. There is no known cure.
"I have been given the gift of time, which most people with ALS don't get," Peet said. "I never forget that. The best way I know to honor the friends I've lost and others with ALS is to celebrate what my muscles can do and raise money so no other families have to go through this awful disease."
To learn more about the Team Drea Foundation, visit their website. Follow Peet's journey on Instagram, Facebook, and Twitter.
About The Team Drea Foundation
The Team Drea Foundation is a 501(c)(3) that supports bold, innovative research to find a cure or effective treatment for ALS. We see raising awareness about this devastating disease as an opportunity to inspire people to live bravely, love joyfully, and appreciate the gift of life. Founded in October 2016 by Andrea Lytle Peet and her husband David Peet, the foundation supports two organizations that are passionately dedicated to research: ALS Therapy Development Institute and Duke University. For more information or to donate, visit www.teamdrea.org.