Title Nine's Outdoor Edition Pitchfest Announces 2021 Winners
September 29, 2021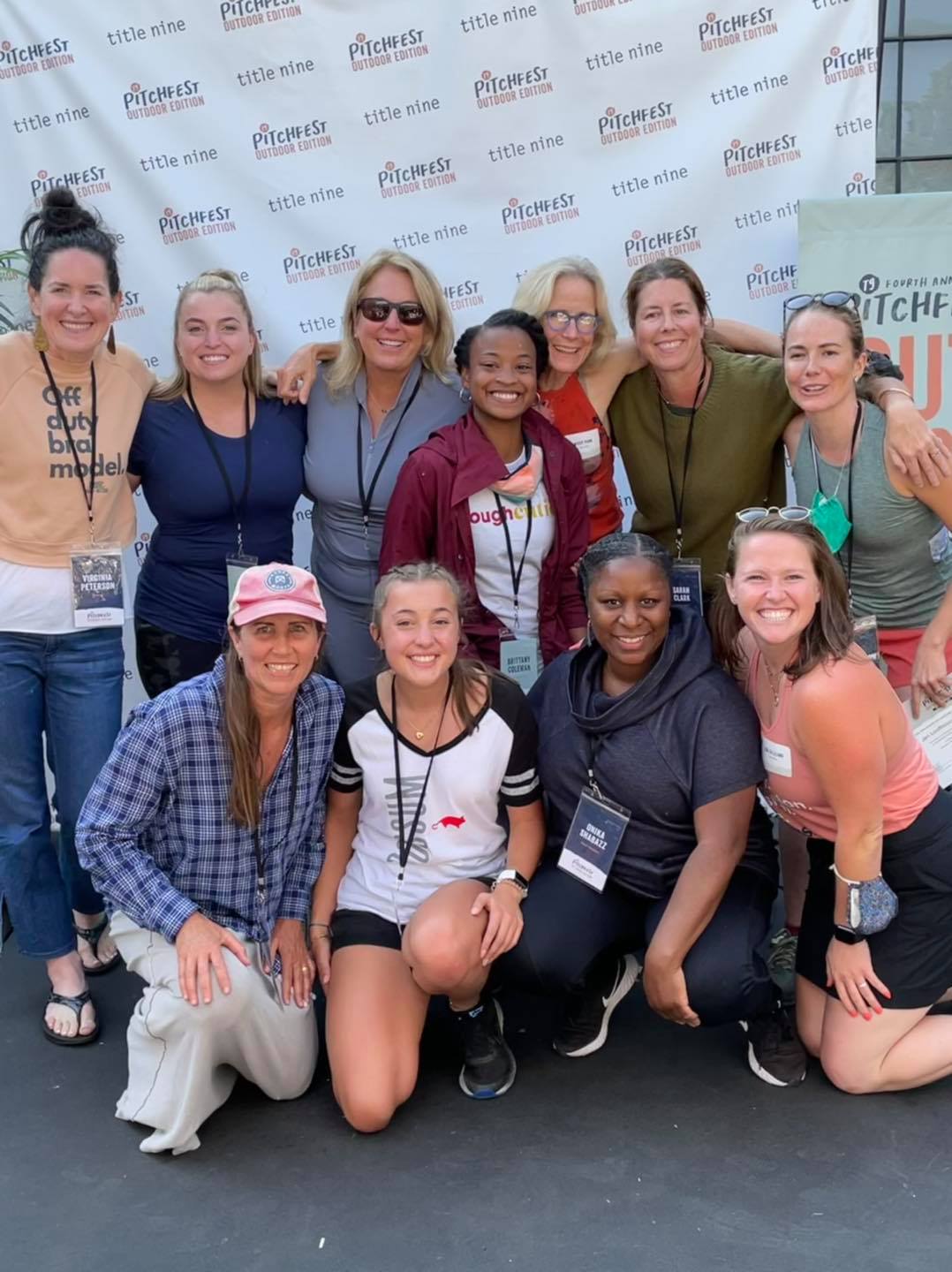 Tough Cutie, B+Me NYC, and Alpine Fit named newest Title Nine retail partners
Emeryville, Calif, Sept. 29, 2021 /SPORTSWIRE WOMEN/ — Title Nine, the adventure and outdoor apparel retailer that encourages women to lead, risk and own, is proud to announce the winners of its fourth-annual Pitchfest Outdoor Edition. The pitchfest is a campaign to find entrepreneurial women who want to pitch their brand, tell their story, and show their innovative products, in the hopes of having their products sold on the Title Nine site and becoming a part of Title Nine's entrepreneurial network of Movers & Makers™.
The nine finalists convened in Emeryville, CA for a two-day immersive experience. The program included orienteering, games and workouts, and mentoring and panel sessions. In addition to the finalist pitches, there were opportunities to network with other founders and women-led businesses such as Oiselle, Coalition Snow and Bronwen Jewelry.
As finalists, these women rose to the top as entrepreneurial, driven and market appealing brand representatives, and each impressed the judges with their branding, marketing and sales visions. Finalists included: Jen Loofbourrow, Alpine Fit; Sarah Clark, B+Me NYC; Kelly Sue Enfield, Citizen Burro; Onika Shabazz, Heat Athletic; Lynne Fletcher O'Brien, Line in the Sand; Stephanie Perez, Perspective Fitwear; Zoe Turner, Possum Gear Strap; Virginia Lynn Peterson, Swoop; Brittany Coleman, Tough Cutie.
After much deliberation, the winners of the 2021 Title Nine Outdoor Edition Pitchfest are: Brittany Coleman of Tough Cutie; Sarah Clark of B+Me NYC; and Jen Loofbourrow of Alpine Fit.
The winners will receive mentorship from Title Nine founder Missy Park and other women business leaders, as well as a purchase order from Title Nine; their products will be featured and sold on titlenine.com and in select Title Nine retail outlets.
"Pitchfest is such a wonderful celebration of competition and connection," said Title Nine Pitchfest organizer Lisa Gilliland. "Each year our network of women leaders grows more diverse in talent, expertise, and background. We are incredibly proud to welcome our winners into our family, and we also want to thank each participant for sharing their stories, struggles and successes. Risking, leading, and owning can be hard, but we hope events like our pitchfest provide confidence and community to help women entrepreneurs succeed in the outdoor industry."
Title Nine started the Pitchfest Outdoor Edition in 2018 in order to provide a platform for majority women-owned brands to gain valuable industry insights into the competitive outdoor, athletic and lifestyle spaces. Title Nine boasts an impressive line up of alumni from the competition including Mina Yoo of Heroclip; Cassie Abel of Wild Rye; and Erika Togashi of SEPTEMBER. Pitchfest also hosts some of the most recognizable women leaders in the industry to serve as mentors and judges at the event like Sally Bergesen, Founder & CEO of Oiselle and Jen Gurecki, CEO of Coalition Snow.
The Pitchfest Outdoor Edition has taken small businesses to the next level. Previous winners, such as Velorosa Cycling apparel, have reported seeing triple and quadruple digit sales increases on their own branded platforms as well as through Title Nine. Since winning the 2020 Pitchfest Outdoor Edition, Title Nine has sold nearly $100,000 in Velorosa apparel, which is a figure that competes with Title Nine's larger brand partners.
Please visit the Title Nine Pitchfest Outdoor Edition website for more information. www.titlenine.com/pitchfestoutdoor.
###
Media Contact: Anna Avery, anna@outsidepr.com
About Title Nine:
Title Nine was founded in 1989 as a women's outdoor performance wear company whose goal is to outfit and inspire women to take risks, lead in their communities, and seek their own adventures. Today, the woman-owned company employs over 300 people and has 17 stores in 8 states, and online at titlenine.com. Selling a range of top brands curated for active women who are on-the-go, the brand has increasingly devoted much of its collections to its own brand creations ranging from swimwear to performance dresses. The company advocates forcefully for women's issues, including creating Pitchfest Outdoor Edition, the yearly event that partners with small, women-owned brands to find a voice — and a sales platform and Pitchfest Nonprofit Edition, an annual gathering of women leaders in the nonprofit sector.