UCAN Presents "Boston & Beyond: Reaching Your Personal Best"
April 13, 2022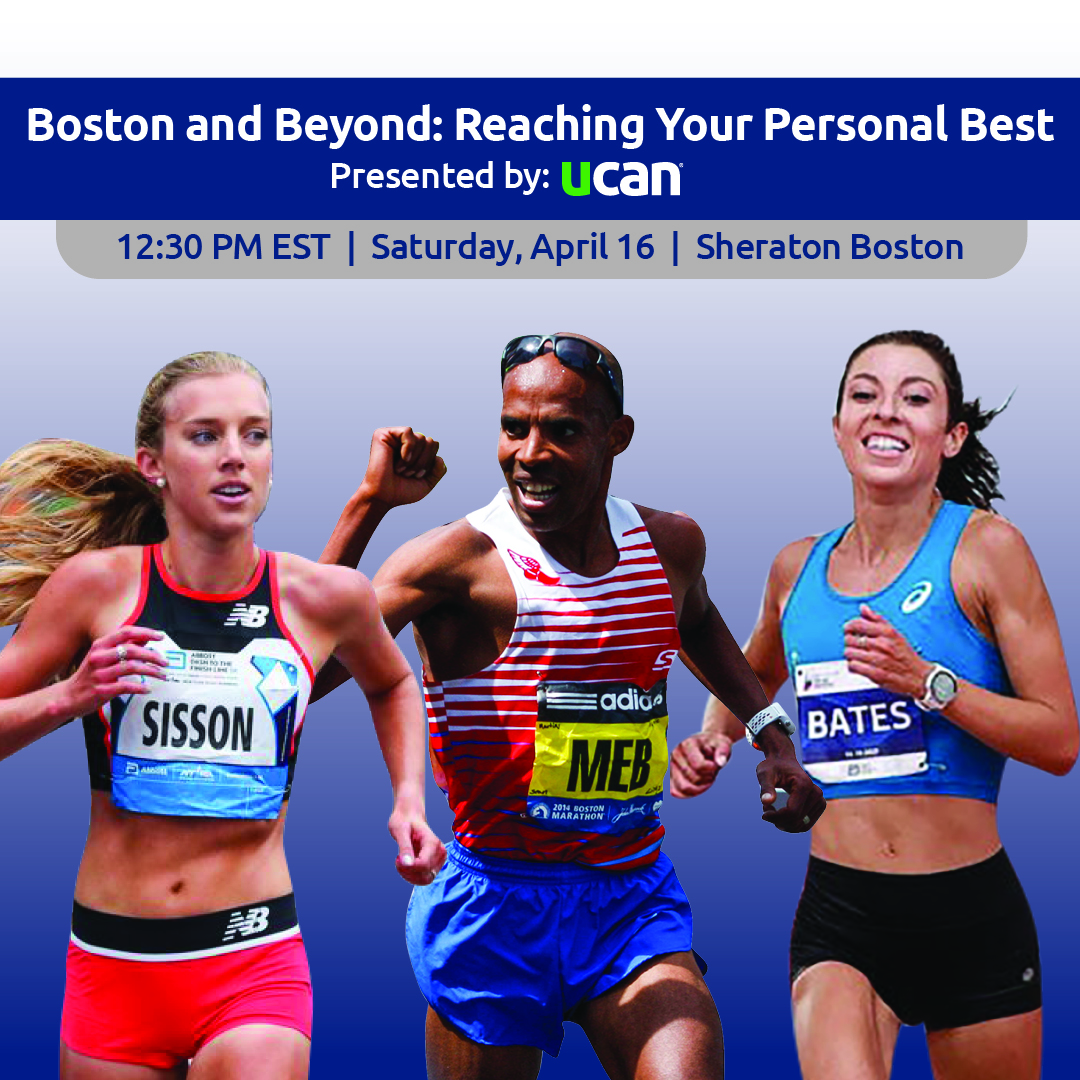 Join some of the biggest names in running for a motivating discussion on how to reach your goals.
/SPORTSWIRE WOMEN/ – The top distance runners in the United States are sharing their tips to help you run your best Boston Marathon. UCAN is hosting a special panel event to celebrate the achievement of the runners who are racing in Boston.  The panel of pro athletes who have dedicated themselves to training for the marathon will provide advice on race day training and nutrition strategies for success.
Featured Guests:
When:
Saturday, April 16
Athlete Panel: 12:30-2 PM EST
Shakeout Run: 3 PM EST
Where:
Sheraton Boston, Republic Room (2nd Floor)
39 Dalton St, Boston, MA
Register for FREE:
Meb Keflezighi is a legend of U.S. distance running and winner of the 2014 Boston Marathon. He's qualified for 4 U.S. Olympic teams, won an Olympic silver medal, and is the 2009 NYC Marathon Champion.
Emily Sisson was the top American at the Tokyo Olympics in the 10,000m and holds the records for the fastest half marathon and marathon debuts by an American on a record-eligible course. She won the USA 15K Championship earlier this year.
Emma Bates will be representing Team USA at the World Marathon Championships this summer and finished 2nd at the 2021 Chicago Marathon.
The panel will also feature the story of first-time Boston Marathon runner Tommie Runz, and is hosted by Olympian Carrie Tollefson & Marathon Training Academy Podcast Host Angie Spencer.
After the panel, join UCAN, Emma Bates and Carrie Tollefson for a 1-mile shakeout run at 3 PM EST to get your legs ready for Marathon Monday.
About UCAN:  
Based in the US, UCAN is a company that's changing the way you think of energy – with food products that provide athletes and active people the foundational energy insurance that they can rely on to achieve their performance and fitness goals. UCAN products utilize LIVSTEADY™, a slow-releasing, low glycemic carbohydrate that delivers steady, long-lasting energy without sugar. This patented energy source is unique to UCAN products and was originally created to help a child with a rare metabolic disorder maintain stable blood sugar. UCAN Edge, Energy Pouches, Powders, Energy Mix and Energy Bars are trusted by over 400 pro and college teams, Olympians, elite endurance athletes, thought leaders in health and performance, and recreational athletes, all seeking a healthy way to unlock peak performance. Learn more at ucan.co, and get the latest news in the UCAN world by following @GenUCAN on Facebook, Instagram and Twitter. UCAN nutrition products are currently available in powder, pre-mixed, energy mix, and bar formats, in a variety of flavors, at 350+ specialty run, bike and tri stores around the country, Lifetime gyms, and can be purchased online at ucan.co or on Amazon.