Ukrainian Woman to Run Her First Race, the Life Time Chicago Spring Half Marathon, on May 22; "Every step will be a prayer and an act of support"
May 17, 2022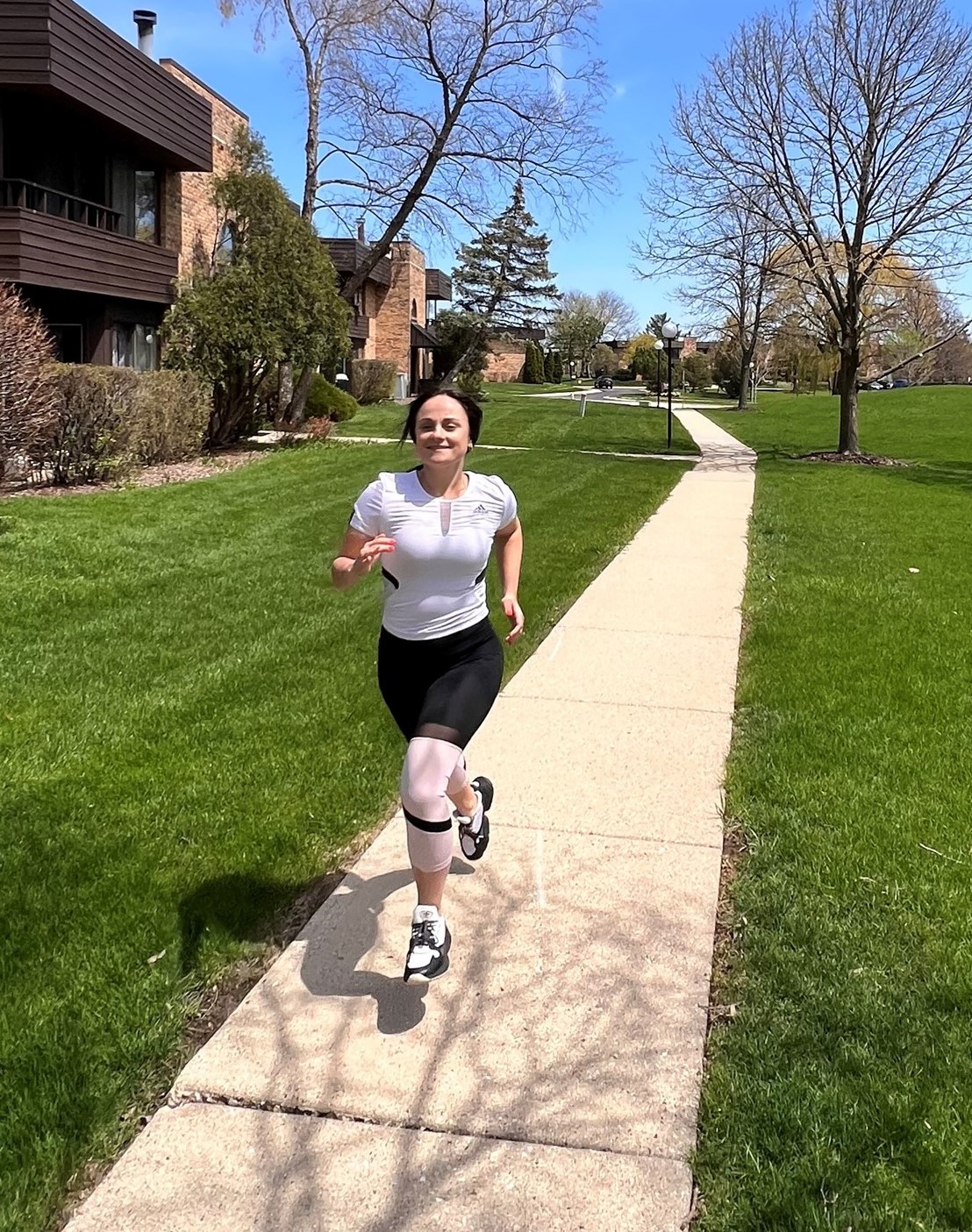 CHICAGO (May 17, 2022) /SPORTSWIRE WOMEN/ – 32-year-old Oksana Skrynyk will toe the line at the 13th annual Life Time Chicago Spring Half Marathon at 7:00 a.m. on Sunday, May 22 for the first time ever. In her initial registration, Skrynyk left race organizers a brief declaration: I will run this marathon for my home country Ukraine!
The message became a spark for Life Time to learn more. Skrynyk, originally from Chortkiv, located in the Ternopil region of Western Ukraine, moved to the United States in 2018 with her husband and two sons. The family now resides in Palatine, Ill. where Oksana works as notary public.
"I am Ukrainian. This is my motivation, my story, my pain, and my pride," explained Skrynyk. She first learned about marathons during a visit to New York as an exchange student in 2009 and has dreamed of participating in an official race since. The Life Time Chicago Spring Half Marathon will be her first. It consists of 13.1 miles beginning on Columbus Drive adjacent to Maggie Daley Park, heading south along Lake Michigan past the city's historic museum campus and Soldier Field. "I dedicate my every step of this half marathon to the people of Ukraine.", she noted.
Skrynyk's internal fire to cross the finish line remains lit when she thinks of the children, mothers, and military specifically. "I run for those who have already walked their path to the end, those who are struggling, fear to be killed, and who are unable to walk freely in the streets." She will be one of more than 7,000 who will participate in the event, which serves as the official kickoff to the summer racing season in the Windy City.
While the thousands around her may be running for health, fun, or to hit personal records, Skrynk will have one thing on her mind.
"My every single step will be a prayer and an act of support for a scared Ukrainian child with their name and phone number on their back, for each baby born in the bomb shelter, for each new mother who protected her body and little miracle, and for Ukraine's most wonderful, brave warriors who are motivation to the world. I will run for victory of light over darkness!"
Registration for the Life Time Chicago Spring Half Marathon is currently open with more than 6,000 runners representing 48 states and 21 countries already signed up. The race serves as an annual tradition that celebrates the city's emergence from winter. Registration is expected to exceed 7,500 by race-day.
Other distances include distances include 10K (6.2 miles) and Junior Dash half-mile events. After runners cross the finish line and receive their medal and t-shirt, Life Time will host a Spring Market Finish Festival at Maggie Daley Park. The festival includes a gourmet breakfast brunch, concessions, beer garden, and popular plant-your-own-flowerpot station.
Learn more at www.chicagospringhalf.com
The Life Time Chicago Spring Half Marathon is owned and produced by Life Time (NYSE: LTH), the nation's premier healthy lifestyle brand. It is among more than 30 iconic events produced by the company, including the Chicago Triathlon (August) and Chicago Half Marathon (September), in addition to the more than 160 premier athletic country clubs the company operates throughout the nation. Its newest club, Life Time River North at One Chicago, opened in February 2022.
# # #
Contact: Jordan Titus | 952.229.7179 | jtitus@lt.life
Event images and b-roll HERE