Wondery Brand Celebrates International Women's Day with "The Onsight" Climbing Festival
February 16, 2023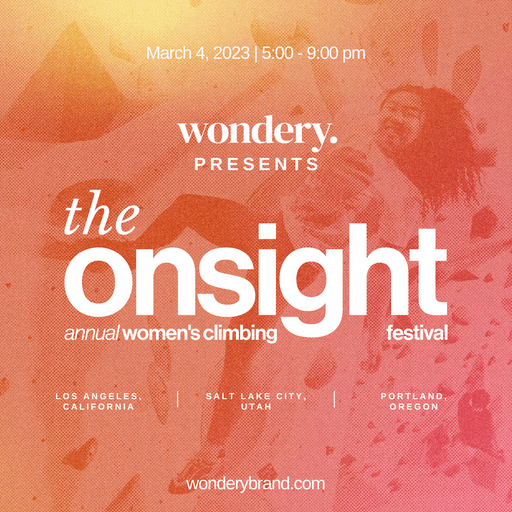 Inclusive Climbing Events to Celebrate Women and BIPOC Communities in Los Angeles, Portland, and Salt Lake City
Los Angeles, CA (February 16, 2023) /SPORTSWIRE WOMEN/ – Wondery, an apparel and gear brand on a mission to empower women in the outdoors, will celebrate International Women's Day with its inaugural climbing festival, The Onsight. An annual festival launching Saturday, March 4, The Onsight will gather climbers and those new to the sport in Los Angeles, Portland (Oregon), and Salt Lake City to commemorate International Women's Day, officially observed Wednesday, March 8.
The Wondery team anticipates drawing upwards of 600 guests across the three event spaces: Sender One LAX in LA, Salt Lake Bouldering Project, and Movement Portland. Sponsors of the event include Patagonia, Cotopaxi, and Mountain Hardwear. The Onsight events will host a variety of climbing and adventure challenges, climbing clinics, a marketplace of woman-owned businesses, an outdoor gear raffle, and refreshments furnished by local vendors.
The first 50 people to RSVP to each gym will receive a gift bag, and guests attending the event in Los Angeles will receive 50% off the Wondery Isabel Pant, Parks of the USA Bucket List Water Bottle, and special-edition Wondery community tee. Fifty percent of the day pass sales and 100% of raffle revenue from The Onsight will be donated to The Ladies Climbing Coalition, a nonprofit dedicated to building community and fostering positivity, inspiration, motivation, and growth for women and non-binary climbers.
"As part of Wondery's mission to empower women and other underrepresented communities in the outdoors, we identify, partner with, and support existing communities and groups who are already making moves for a cause. This year, The Onsight will help amplify the outstanding efforts of the Ladies Climbing Coalition," said Lydia Mok, community director at Wondery Brand. "Climbing is a sport with some high barriers to entry. Our events are intended to level those barriers and empower more women by inviting them in and celebrating our collective strengths."
Through reduced prices and complimentary services, Wondery strives to bolster education and gear access so that anyone interested in outdoor recreation can enjoy the experience with knowledge, safety, and empowerment. For more information about The Onsight Festival and to register, head to www.wonderybrand.com/pages/the-onsight.
About Wondery
Wondery's mission is to empower women in the outdoors. Based near Los Angeles, California, Wondery makes comfortable, durable, and style-driven apparel for women with a focus on size inclusivity. Wondery represents all women-identifying and non-binary individuals in product development, community building, and event partnerships. For more info, visit www.WonderyBrand.com or follow @WonderyBrand on Instagram, Facebook, and TikTok.
About Ladies Climbing Coalition
The Ladies Climbing Coalition is a registered 501(c)3 nonprofit organization with a mission to connect and empower all women and non-binary folx in spaces that center the experiences of women through climbing. Dedicated to breaking down barriers to entry – access, opportunity, and cost, the Ladies Climbing Coalition strives to build community and foster positivity, inspiration, motivation, and growth. Learn more at www.ladiesclimbingcoalition.com.