2022 Team INFINIT Elite Roster Announced
March 17, 2022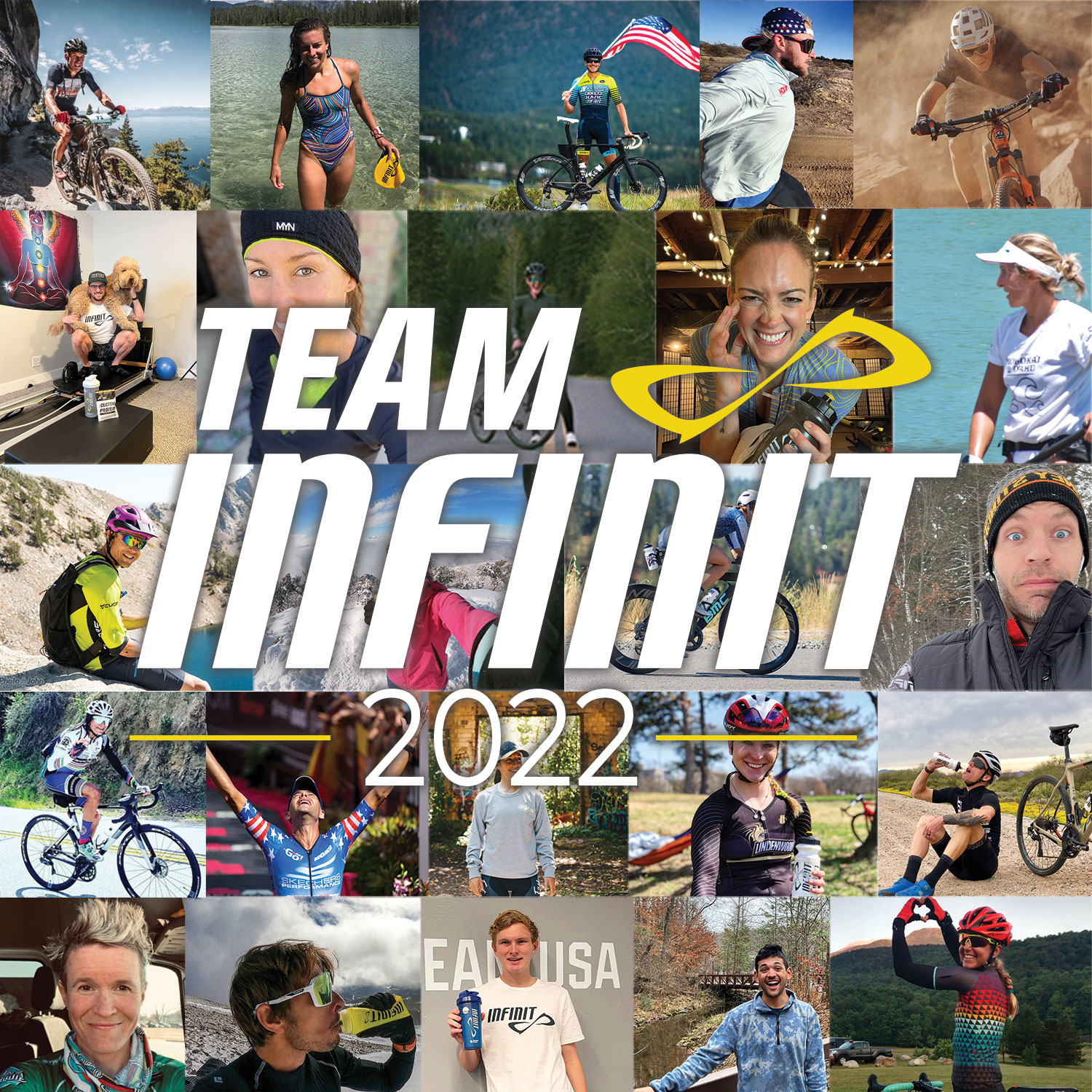 Wide range of athletes features endurance icons like Andy Potts, Josh Tostado, and Taylor Lideen
Cincinnati, Ohio, March 17, 2022 — INFINIT Nutrition has revealed its 2022 Team INFINIT Elite roster featuring 24 new and returning athletes representing a diverse range of sports.
The 2022 roster will be representing Team INFINIT in endurance sports like Triathlon, Cycling, Running and Paddling. Returning names include longtime INFINIT athletes Andy Potts, Taylor Lideen, Matt Russell, Josh Tostado, and Nicholas Chase who will be again using INFNIT Nutrition hydration and recovery drink mixes to fuel their training and racing.
Building on the company's diversity and inclusion initiatives, the 2022 Team INFINIT Elite roster features a nearly equal number of male and female athletes who will be competing at the highest levels of their sport.
"One of INFINIT's main goals has been to work towards creating a world where everyone feels represented and included in the endurance sports and outdoor industries," said Laura Hering, INFINIT's Vice President and Director of Nutrition. "A main part of this effort is our commitment to create an equitable and diverse elite team roster."
Three para athletes will also be joining Team INFINIT — Owen Cravens is a rising star in paratriathlon. Clara Brown is a paracyclist who represented Team USA at the 2020 Tokyo Paralympics. Caleb Cline is a veteran of the United States Army and back to back (2020-2021) recumbent trike 24 Hour World Champion.
"It's really exciting to be building relationships within the parasport community," said Michael Folan, INFINIT founder and CEO. "Overcoming the odds to achieve greatness is what sports are all about—And we're honored to support these athletes who truly embody that spirit of defiance and perseverance."
Bradyn Lange, a 22-year old cyclist from Austin, TX is another new face on Team INFINIT. Youngest of the only 60 athletes selected to compete in the Lifetime Grand Prix series this year, Bradyn will be toeing the line at some of the biggest races of the year including Garmin Unbound Gravel and Stages Cycling Leadville Trail 100 MTB.
INFINIT is also partnering to support Floyds of Leadville Racing, a gravel and mountain bike racing team started by Floyd Landis featuring Tinker Suarez, Genevive Jeanson, Paul Thomas, and longtime INFINIT athlete Taylor Lideen.
The complete Team INFINIT Elite Roster for 2022 is:
Andy Potts – Triathlon
Rachel Langdon – Cycling
Ben Kanute – Triathlon
Clara Brown – Cycling & Paracycling
Nicholas Chase – Triathlon
Josh Tostado – Mountain Bike
Matt Russell – Triathlon
Bradyn Lange – Gravel and Mountain Bike
Amber Ferreira – Snowshoe & Triathlon
Taylor Lideen – Gravel and Mountain Bike
Victor Cashes – Mountain Bike
Tinker Juarez – Gravel and Mountain Bike
Genevive Jeanson – Gravel Cycling
Paul Thomas – Gravel and Mountain Bike
Owen Cravens – Paratriathlon & Nordic Skiing
Caleb Cline – Recumbent Trike
Justin Lund – Track and field, trail racing & MTB
Jennifer Lee – SUP, Surfski, Outrigger Canoe
Alycia Hill – Trail Running & Triathlon
Christine Warren – Triathlon
Maddy Frank – Mountain Bike & Road Cycling
Elizabeth Barbosa – Trail Running & Olympic Weightlifting
Ginny Cataldi – Triathlon
Kayla Bowker – Triathlon
To see the full roster and learn more about our athletes, visit INFINITnutrition.us.
About INFINIT Nutrition
INFINIT is a sports nutrition company based out of Cincinnati, Ohio. Specializing in personalized nutrition, the company manufactures customizable drink mixes designed by dietitians to naturally maximize athletic performance and fitness results. Developed with the company's proprietary Osmo-FIT system, INFINIT hydration and protein ready-to-mix supplements are made with clean, natural ingredients and are formulated to be easy to digest, even in the most extreme conditions. For more information visit INFINITNutrition.us
###