Elite Runner Releases New Book about Running and Training Throughout Pregnancy and into the Fourth Trimester
October 19, 2021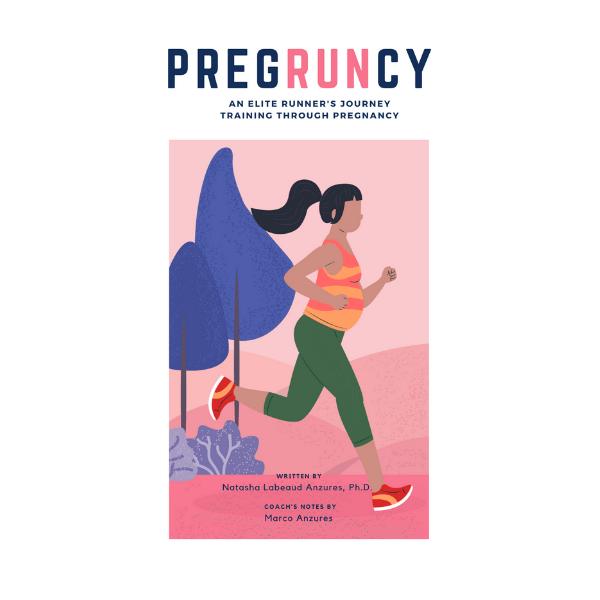 The book details every day of pregnancy and the first 90 days postpartum, without workout logs, personal thoughts, and training notes from both the athlete's and coach's perspectives
/SPORTSWIRE WOMEN/ — Natasha LaBeaud Anzures, an elite runner for Canada, has just released a new book entitled, "Pregruncy: An Elite Runner's Journey Training Through Pregnancy." The book details every day of pregnancy and the first 90 days postpartum, which workout logs, personal thoughts, and training notes from both the athlete's and coach's perspectives.
LaBeaud Anzures decided to write Pregruncy as soon as she found out that she was pregnant in September 2020. Like many others, she has always been fascinated with exercise during pregnancy, and what the entire pregnancy experience would be like. Years before she ever became pregnant, she would read any articles that came her way about the topic. LaBead Anzures was never the person who said that they were going to have a family, or became starry-eyed when thinking about cradling her stomach during the third trimester. She has always been more curious about the process of pregnancy and how different people cope with the cards that they are dealt.  But, she noticed that there were few resources available for the elite runner or athlete trying to navigate the world of training during pregnancy. There were morsels of details deep in Instagram posts, but there was no consistent stream of information available that showed what each day of training looked like, and that was what she was on a quest to share.
"I am proud to share what I learned throughout pregnancy and into postpartum with others," said LaBeaud Anzures. "I know that many aspects of pregnancy tend to be sugar-coated, and I hope that I was able to provide a real account of my experiences that can help others navigate what is possible during pregnancy. It is also my hope that others become their own biggest advocates and learn to trust their own instincts when it comes to personal health and wellbeing."
LaBeaud Anzures decided with her husband (who is also her coach) that she would use her own personal experiences to help others navigate pregnancy. She had not found a resource that chronicled each day of training and the pregnancy experience. LaBeaud Anzures kept thinking about how helpful it would be to know what the whole journey looked like for someone, as opposed to snippets along the way. She also knew that her experiences with pregnancy were her own and may not match someone else's, but she wanted to see what was possible during pregnancy, including a 5:00 mile time trial at almost 32 weeks pregnant.
LaBeaud Anzures had heard so many notions about what a woman can and can't do while they are pregnant, and most of the guidance errs on the 'can't' side without much evidence supporting it.  The pair decided that her coach would also keep his own notes during this process so that there would be two perspectives in the book. The notes were later combined so that the "coach's notes" could be sprinkled in throughout.
The book shares that the human body can do some amazing things and withstand an incredible amount of pain throughout pregnancy, which included a natural birth and two sacral fractures for LaBeaud Anzures. In addition, the book dives into the healthcare system in the United States, and highlights the ways in which the system needs to change in terms of care for pregnant women and into postpartum recovery.
The book is now available for purchase online at amazon.com in ebook, paperback, and hardcover formats. More information about the book can also be found at https://www.pregruncy.com/
For media inquiries, please contact: pregruncy@buzzbrightpr.com