Experience Fayetteville to Sponsor Team USA Women's World Championship Squad
January 19, 2022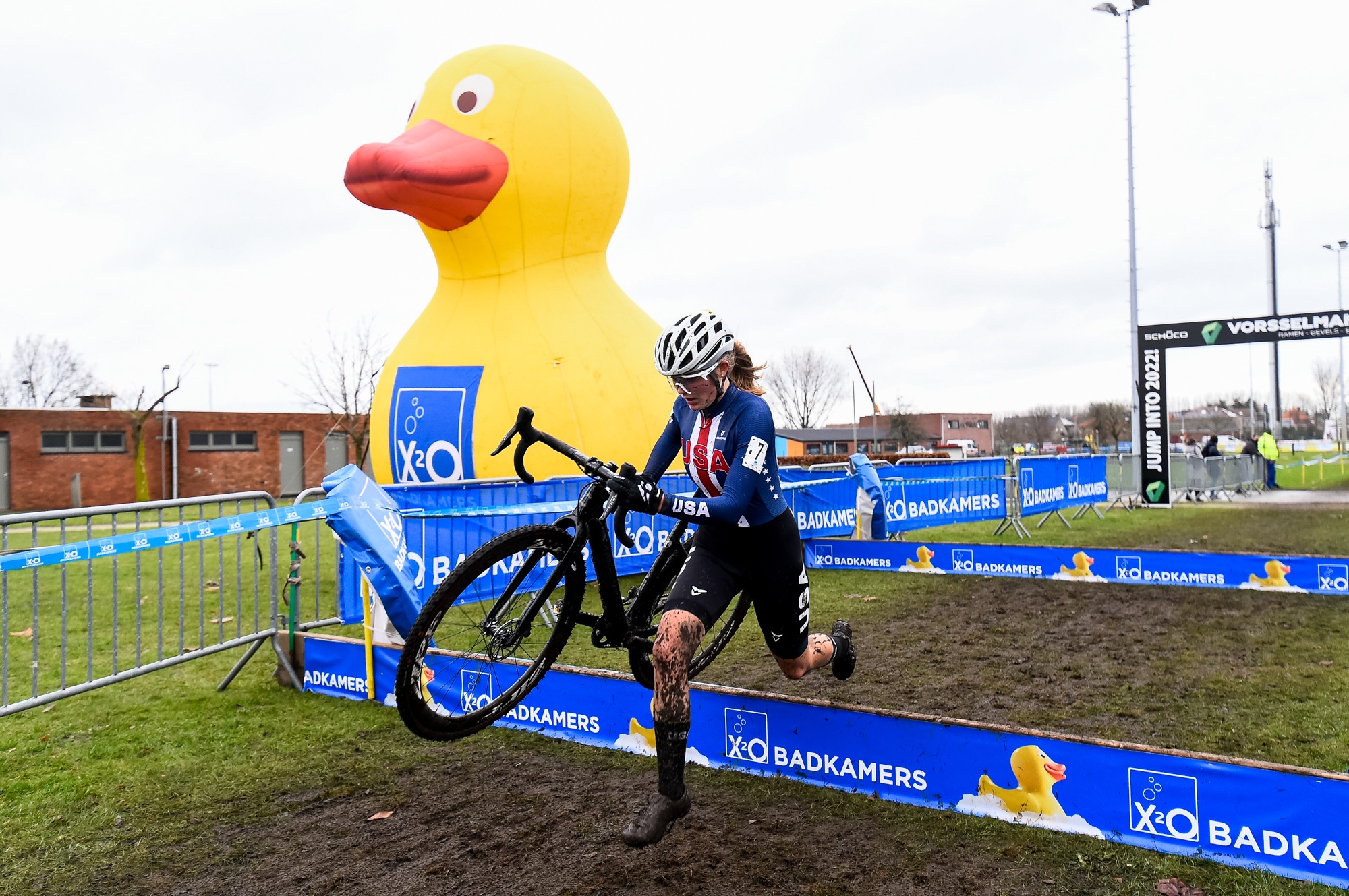 Host City, Fayetteville Ark., supports record-breaking participation by American female athletes in the upcoming 2022 Walmart UCI Cyclocross World Championships.
COLORADO SPRINGS, Colo./SPORTSWIRE WOMEN/ – USA Cycling recently announced the 38-athlete roster heading to the 2022 UCI Walmart Cyclocross World Championships in Fayetteville, Ark. USA Cycling is excited that Experience Fayetteville is bringing a World Championship cycling event to the United States and is capitalizing on the opportunity to showcase the largest team they have ever sent to a Cyclocross World Championships.  "It's exceptionally rare to compete for a rainbow jersey on this side of the Atlantic. We're appreciative of the generous support by Experience Fayetteville to provide maximum opportunity for women on the U.S. National Team to participate at the upcoming World Championships," said Brendan Quirk, President and CEO of USA Cycling.
With an unprecedented number of athletes and staff on the roster, USA Cycling and the USA Cycling Foundation's MudFund were elated that Experience Fayetteville offered to sponsor the women's team. Molly Rawn, CEO of the Local Organizing Committee, Experience Fayetteville, said "Experience Fayetteville is honored to host the Cyclocross World Championships on U.S. soil, and we are committed to creating more accessibility for women in sport.  As part of that commitment, we're proud to make this contribution to USA Cycling's women's roster."
USA Cycling's Cyclocross Director, Jesse Anthony, commented, "These sponsorship dollars will eliminate any out-of-pocket expenses for the Team USA women once on the ground in Fayetteville, and we are extremely grateful to Molly and her team for their generous support of our female athletes."
Visit USACycling.org for more information on the athletes, events and membership programs, and follow @USACycling across all channels for the latest on Team USA.
To learn more about Experience Fayetteville, contact Hazel Hernandez at Hhernandez@experiencefayetteville.com
For more information, contact Angelina Palermo at apalermo@usacycling.org.
ABOUT USA CYCLING (usacycling.org)
USA Cycling is the national governing body for the sport of cycling and oversees the disciplines of road, track, mountain bike, cyclocross, and BMX. USA Cycling's mission is to champion accessibility, participation, and excellence in the sport of cycling to make more Americans healthier, happier, and better on two wheels while achieving sustained international racing success. USA Cycling supports cyclists at all levels, from those just beginning in the sport and participating in fun rides to international caliber racers. The organization identifies, develops, and selects cyclists to represent the United States in international competition through the support of kids' and interscholastic programs, amateur bike racing and grassroots development programs, and the provision of critical infrastructure to run organized racing. USA Cycling has a membership of 100,000, annually sanctions over 2,500 events, and is a proud member of the Union Cycliste Internationale (UCI) and United States Olympic & Paralympic Committee (USOPC).