F2C Nutrition Welcomes Meaghan Hackinen – Ultra-Endurance Cyclist and 2021 BC EPIC 1000 Overall Champion to Team F2C
January 19, 2022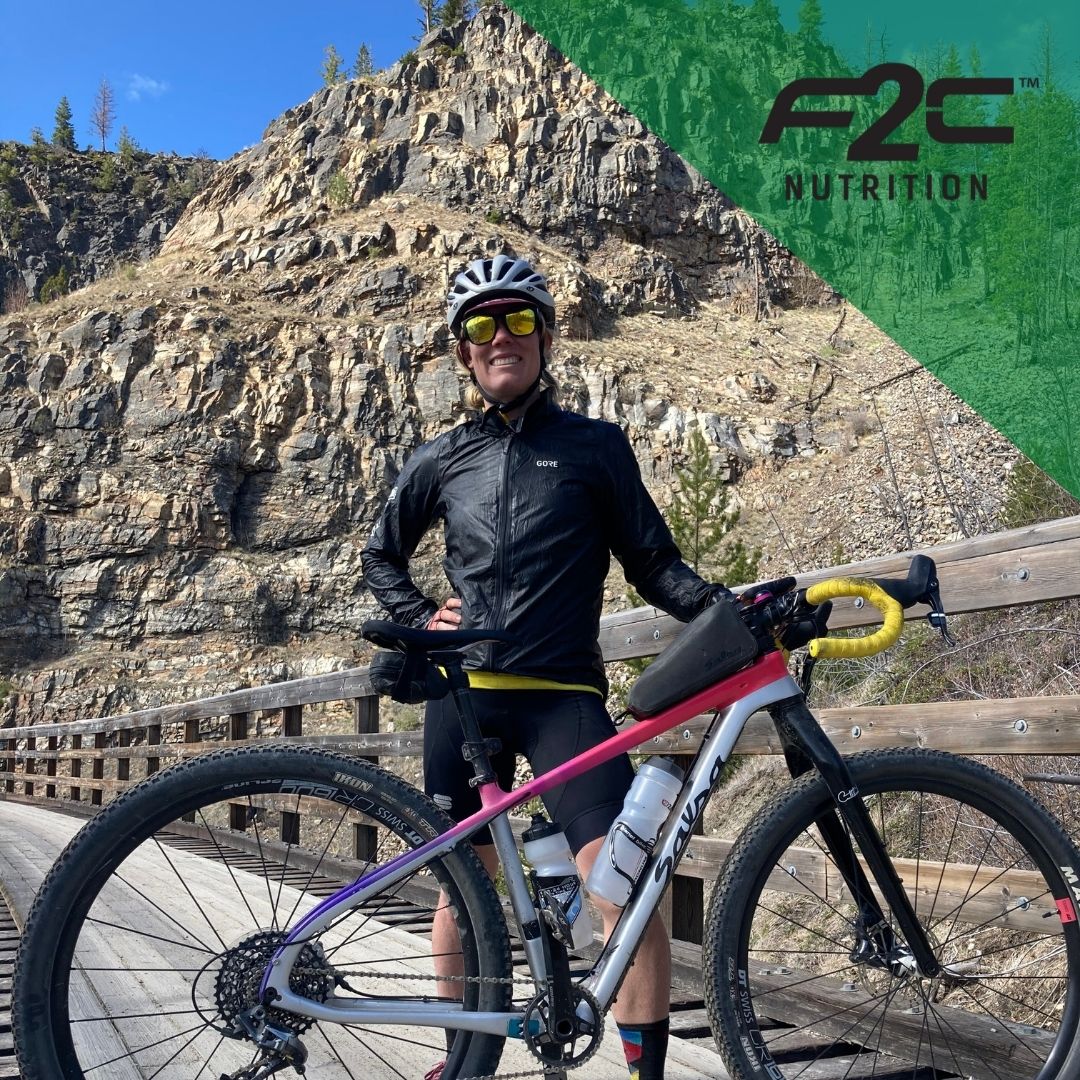 2019 Road Cycling 24-Hour World Time Trial Champion and World Record Holder Set to Fuel with F2C Nutrition
Vancouver, B.C. Jan 19, 2022 /SPORTSWIRE WOMEN/ – F2C Nutrition Inc. is happy to announce a partnership with Meaghan Hackinen, current world record holder of the 24-Hour World Time Trials. F2C Nutrition, known for premium sports nutrition products and is internationally recognized for quality and innovation, has extended a nutritional partnership with one of the world's top ultra-endurance cyclists.  "F2C Nutrition partners with athletes who share our ideals, ethics and ambition and Meaghan embodies this," says F2C Nutrition president and CEO Greg Cowan "we are thrilled to be supporting her ultra-pursuits with the best nutrition to power her to finish lines."
Meaghan Hackinen started cycle commuting in 2009 to rehabilitate a knee injury. After completing several long tours in Canada, the US, and Mexico—including the Pacific Coast, Trans-Canada, and the Sierra Cascades—and a second knee surgery, she discovered ultra-endurance cycling in 2017. Meaghan has since competed regionally and internationally in self-supported ultra-endurance bikepacking events, on both road and gravel, including the 2017 Trans Am Bike Race (24th finisher/3rd woman's division), 2019 NorthCape4000 (5th finisher/1st woman's division), 2021 BC Epic 1000 (first overall finisher/new women's FKT), and 2021 Alberta Rockies 700 (3rd finisher/1st woman's division). Never one to shy away from a challenge, Meaghan is a three-time "Everester", becoming the first person to Everest Knox Mountain in Kelowna, BC in 2018, as well as the first Canadian woman to complete a 10,000-meter Everesting in 2020. As a randonneur cyclist, Meaghan holds the BC women's provincial record for the Marysville 600 Brevet, and has completed three 1,200-kilometer brevets, including Paris-Brest-Paris in 2019. Meaghan was the 2019 road cycling 24-Hour World Time Trial Champion and maintains the current course record in the women's division. Meaghan is motivated by a sincere desire to compete, discover, and push the boundaries of possibility in sport. She looks forward to tackling even more challenging pursuits on the bike in 2022 and beyond.
"Fuelling on the bike during these extremely long events adds a whole other level of challenge," says Meaghan. "I am absolutely thrilled to have the support of F2C Nutrition so that I can nourish my body to maximize my training and recovery, and compete at my best on race day. I can't wait to join the F2C family!"
F2C is looking forward to supporting Meaghan's endurance nutritional needs with our robust product line up.  She will be fueling and recovering with F2C Nutrition products while racing and training and setting her sights on a host of ultra-endurance events in 2022.
About F2C Nutrition
F2C Nutrition Inc. is an athlete-focused, science-driven sports-nutrition company, supporting athletes by delivering premium quality, clean products. Superior nutritional products and nutrition education is key to an athlete's performance and success. F2C Nutrition Inc. products undergo stringent testing and assures athletes that every batch of our product is tested for impurities, toxins and substances considered prohibited in sport by the World Anti-Doping Agency (WADA). Learn more about F2C Nutrition Inc. at F2CNutrition
Follow F2C Nutrition on Strava,  Facebook, Twitter and Instagram
About Meaghan Hackinen
Meaghan Hackinen is an Okanagan-based writer and ultra-endurance cyclist whose two-wheeled adventures have taken her from Haida Gwaii to Mexico's high plateaus, across Canada and the United States, and from North Cape to Tarifa along some of Europe's highest paved roads. In 2017, Meaghan combined her passion for distance with her fiercely competitive drive and signed up for the 6,800-kilometre Trans Am Bike Race. Since then, she has competed in ultra-endurance bikepacking races in North America and Europe. In 2021, Meaghan claimed her first overall win at the BC Epic 1000, while simultaneously setting a new women's course FKT. Meaghan's debut travel memoir, South Away: The Pacific Coast on Two Wheels (NeWest Press, 2019) was shortlisted for two Canadian book awards. Learn more about Meaghan at www.meaghanhackinen.com. Follow Meaghan on Instagram, Twitter, and Facebook.