GO Sleeves Signs Pro Contract with Skyrunner Hillary "Hillygoat" Allen
January 19, 2022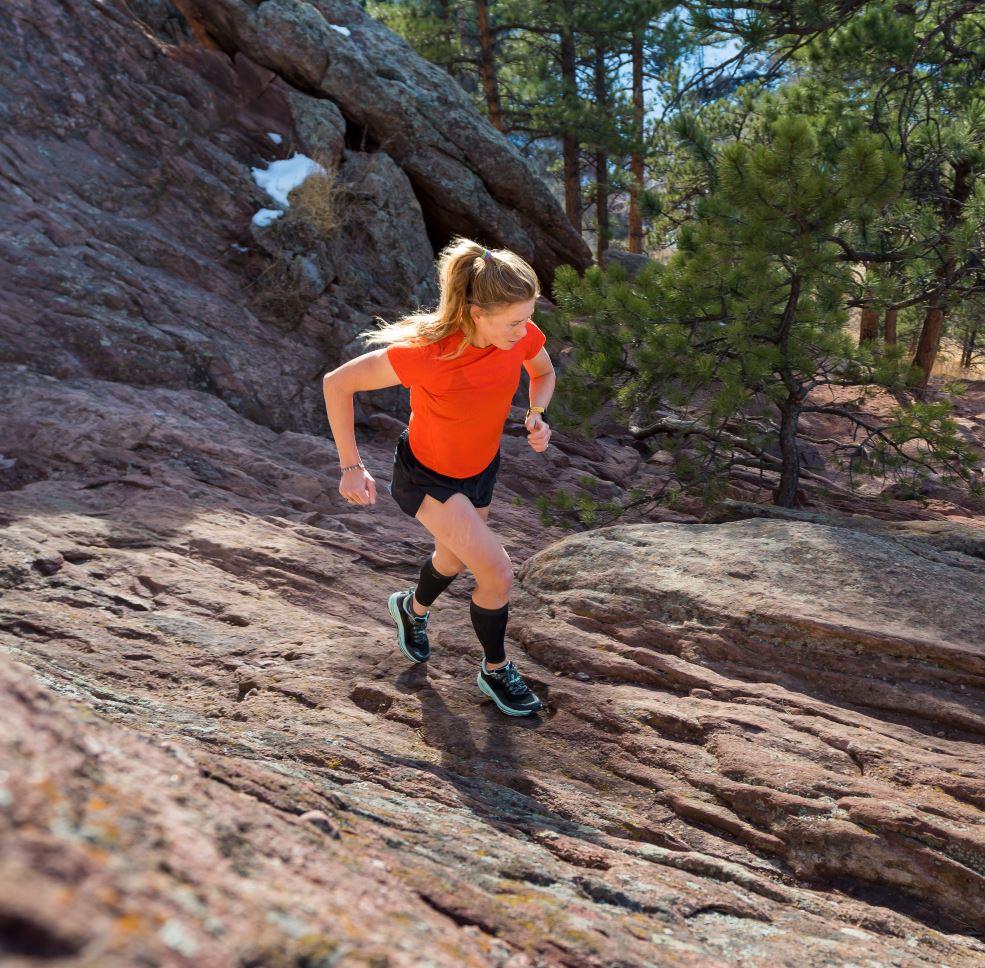 Partnership will focus on endurance running product development and injury recovery awareness.
San Jose, CA (January 19, 2022) /SPORTSWIRE WOMEN/ – GO Sleeves, the company that introduced the world's first and only compression sleeve with built-in kinesiology strips, announced today the signing of Skyrace Endurance Runner Hillary "Hillygoat" Allen to an ongoing partnership contract. "I'm so inspired and proud to welcome Hillary Allen into the GO Sleeves family," said co-founder Darren Lancaster. "I couldn't have imagined anyone better to put GO Sleeves to the test, helping fight fatigue and soreness for ultra and endurance runners. She is the real deal."
Hillary is one of the most accomplished skyrunners in the sport, racking up mountain endurance wins and course records around the world. In 2017 she had a life-threatening accident, where she fell 150 feet off of a ridge-line during a Skyrace in Tromsø, Norway. She broke 14 bones and was told she would never run again. Just 11 months after her injury, after a grueling recovery period, Hillary placed second in the Broken Arrow Vertical Kilometer race in Lake Tahoe and raced a 52K race the following day. A week later, she won a mountain race in the Dolomites.
After several years of rehab and training, Hillary has made a full recovery and has returned to elite-level racing, where she now races her longest and most challenging events. While she still feels pain from the injury to her right foot, and her range of motion is limited, Calf Kinesiology Sleeves from GO Sleeves have helped her counter muscle tightness and soreness during her daily ultra-distance training sessions. At the end of every intense training session, Hillary puts on her GO Sleeves Calf Sleeves to improve blood flow and lymphatic drainage to her calf muscles, Achilles tendon, and shin splints, encouraging the body's natural ability to repair and recover.
"GO Sleeves are the only sleeve or underlayer product I use for endurance running training and in my recovery practice. I feel more confident training hard and avoid injury based on the difference they make, reducing fatigue and helping me recover faster for the next day of training," says Allen. "It's really exciting to be part of the GO Sleeves mission to help keep every body in motion — this is something that deeply speaks to me."
Hillary maintains the belief that "your best athletic days are ahead of you, if you're willing to work hard for what you love." Her injury has helped Hillary find balance in her life and hopes to inspire and educate others to do the same.
Unlike other compression products on the market, GO Sleeves products incorporate the same kinesiology taping technology used by doctors, chiropractors and physical therapists to support key joints, ligaments, and tendons. The built-in silicone strips trigger the body's natural pain reduction capabilities and increase recuperating blood flow and lymphatic drainage. The 4-way stretch outer compression sleeve is super-lightweight, breathable, washable, and reusable. Athletes get all the benefits of a physical therapist's tape session without the recurring cost of an office visit and/or tape applications.
On January 31, 2022, Hillary Allen will be a featured guest on the Road Dog Podcast. She'll share her amazing journey and what she's learned along the way. Joining her will be GO Sleeves CEO Darren Lancaster to explain how and why Hillary uses GO Sleeves in her daily training and recovery routines. He'll also share tips for runners who want to safely push their bodies to achieve new goals.
ABOUT GO SLEEVES
Founded in 2019 by two fitness-minded entrepreneurs, GO Sleeves is a health & fitness brand reimagining the way athletes train, recover, and reduce their vulnerability to injury. By bringing the proven benefits of kinesiology technology to muscle-targeting compression sleeves and other products, GO Sleeves makes staying active and achieving peak performance possible without expensive ongoing treatments.
###
Media Contact:
GO Sleeves
Marci Soulakis Orr/ marci@gosleeves.com
Jennifer G. Levey / Jennifer@gosleeves.com