How Team UCAN Athlete Emily Sisson Fueled Her American Marathon Record
October 14, 2022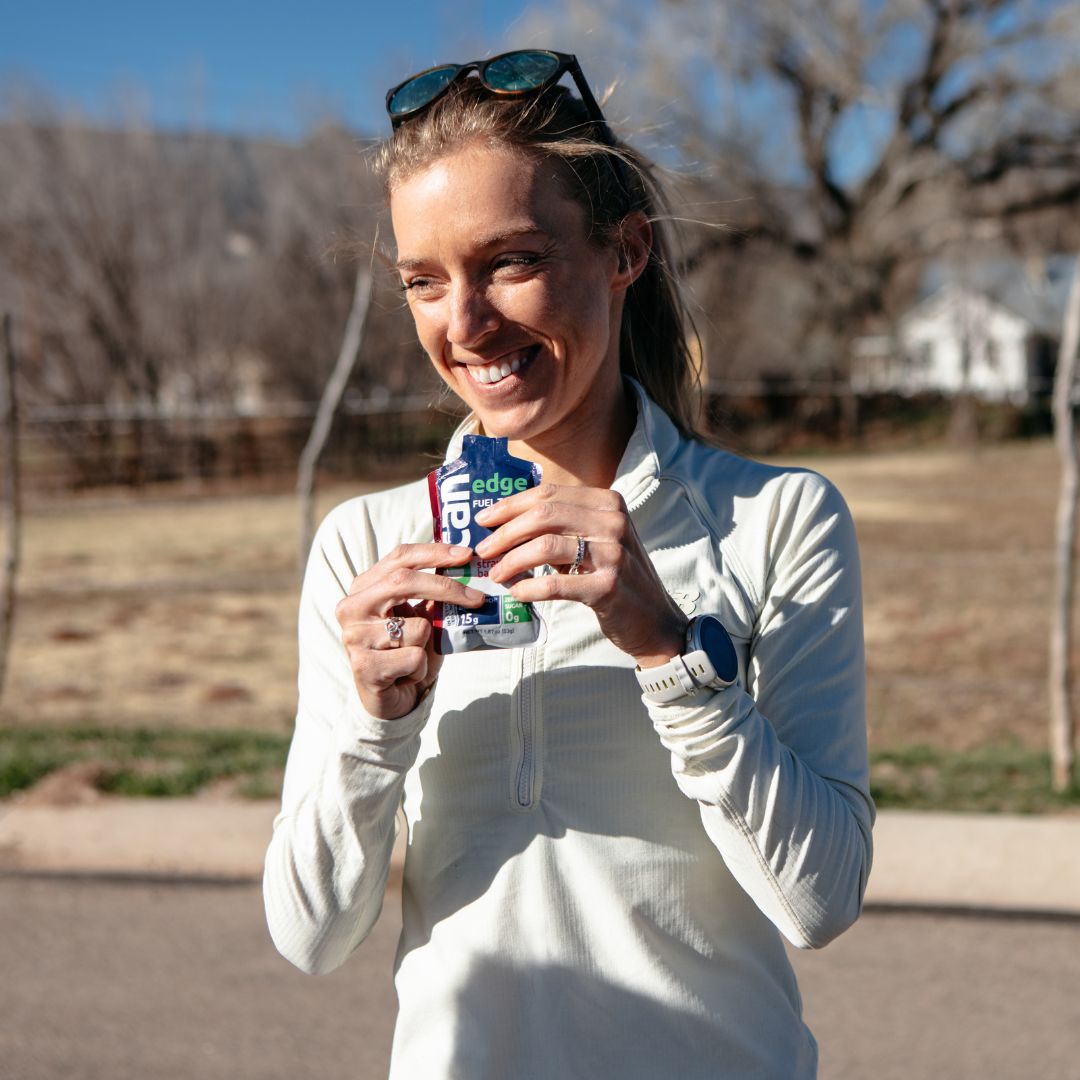 Sisson achieves record-setting time and 2nd place finish at the Chicago Marathon
/SPORTSWIRE WOMEN/ – When Emily Sisson crossed the finish line at the 2022 Chicago Marathon, she had no idea she had just covered 26.2 miles faster than any American woman in history. "The first thing I asked my husband was what my time and pace was," said Sisson. "I was just sprinting to the finish line trying to get there as fast as I could."
Sisson's sprint to the finish earned her the American Women's Marathon Record and a second place finish in Chicago with a time of 2:18:29. She beat the previous American record, set by Keira D'Amato earlier this year, by 43 seconds.
"It was really special and I'm really glad I got to check this off the list of things I wanted to do," said Sisson. "I just tried to run within myself based on how I was feeling. I felt good throughout the first half of the race and other than one rough patch in the second half I felt good most of the way."
Sisson's remarkable run in Chicago was the latest accomplishment in a wildly successful year for the 20201 U.S. Olympian. She set the American Women's Half Marathon record earlier this in Indianapolis, running 1:07:11. Now she also holds the American Marathon Record, a crowning achievement in two signature race distances.
Her race in Chicago was the second time she's completed a marathon and it came in just the third marathon she's ever raced. Her previous marathon was at the 2020 U.S. Olympic Trials, where she had to drop out at mile 22.
A big part of her preparation over the last year to get race-ready for her next marathon was to find a fueling solution that supported her marathon training. She started incorporating UCAN's steady-release energy into her training a year ago and hasn't looked back since.
"UCAN has really helped me achieve my goal of fueling better in training," says Sisson. "It stabilizes my energy levels no matter when I use it."
Emily Sisson's Marathon Nutrition Plan
Sisson's pre-race fuel in Chicago included coffee, 2 slices of toast with almond butter and 2 scoops of UCAN Energy Powder, which she sipped on 60-90 minutes before the race. The steady-release energy from UCAN allowed her to feel strong throughout the race, without any highs and lows. In training, she relied on a combination of Energy Powder and Edge Energy Gels before and during her workouts for consistent energy throughout.
"I've really struggled with taking in bottles and gels during long runs because I have a really sensitive stomach," said Sisson. "I find UCAN sits really well and there's no GI distress."
She's also noticed a big difference with UCAN when it comes to recovery and post-workout energy. The first thing she had after the race was 2 scoops of UCAN Energy + Protein to give her a combination of protein for muscle repair and steady-release carbs to balance her energy
"Before UCAN, I used to crash and burn, especially after my long runs," said Sisson. "I'd be starving after a long workout and want a lot of sugary food. With the UCAN Energy + Protein, I don't feel that anymore. It really helps hold me over after a workout or race until I can have a substantial meal."
Sisson isn't the only top marathon runner fueling with UCAN. Fellow U.S. marathon stars Sara Hall and Emma Bates also relied on UCAN to power them to top 10 finishes at this year's World Championship Marathon. But UCAN isn't just for elite runners – it's for anyone looking to improve performance and fitness in training without having to rely on sugar-filled sports nutrition.
"UCAN takes the worries out of running," says world-class running coach Greg McMillan, who's coached thousands of age group runners to marathon success. "It keeps your blood sugar stable and it's easy on the stomach. Instead of having to sip on something continuously throughout your run and needing to time it perfectly, you can fuel with UCAN every 45-60 minutes and have sustained energy throughout. I finally feel like I've solved the fueling puzzle for my runners."
Whether you're the best marathon runner like Emily Sisson or training for your first marathon, fueling for a endurance training with UCAN is simple:
Before Run: Drink UCAN Energy Powder 30-60 minutes before your run for steady energy that's easy on the stomach.
During Run: Have a UCAN Edge Energy Gel every 45-60 minutes during your run for sustained energy with no spike & crash.
After Run: Drink UCAN Energy + Protein within 30 minutes after your run to jumpstart recovery without dumping the body with sugar.
Learn more about how Emily Sisson fuels with UCAN and check out her favorite products at ucan.co/emily
About UCAN:  
Based in the US, UCAN is a company that's changing the way you think of energy – with food products that provide athletes and active people the foundational energy insurance that they can rely on to achieve their performance and fitness goals. UCAN products utilize LIVSTEADY™, a slow-releasing, low glycemic carbohydrate that delivers steady, long-lasting energy without sugar. This patented energy source is unique to UCAN products and was originally created to help a child with a rare metabolic disorder maintain stable blood sugar. UCAN Edge, Energy Pouches, Powders, Energy Mix and Energy Bars are trusted by over 400 pro and college teams, Olympians, elite endurance athletes, thought leaders in health and performance, and recreational athletes, all seeking a healthy way to unlock peak performance. Learn more at ucan.co, and get the latest news in the UCAN world by following @GenUCAN on Facebook, Instagram and Twitter. UCAN nutrition products are currently available in powder, pre-mixed, energy mix, and bar formats, in a variety of flavors, at 350+ specialty run, bike and tri stores around the country, Lifetime gyms, and can be purchased online at ucan.co or on Amazon.