Kane Footwear partners with Hilary Knight to launch athlete-designed shoe
July 13, 2022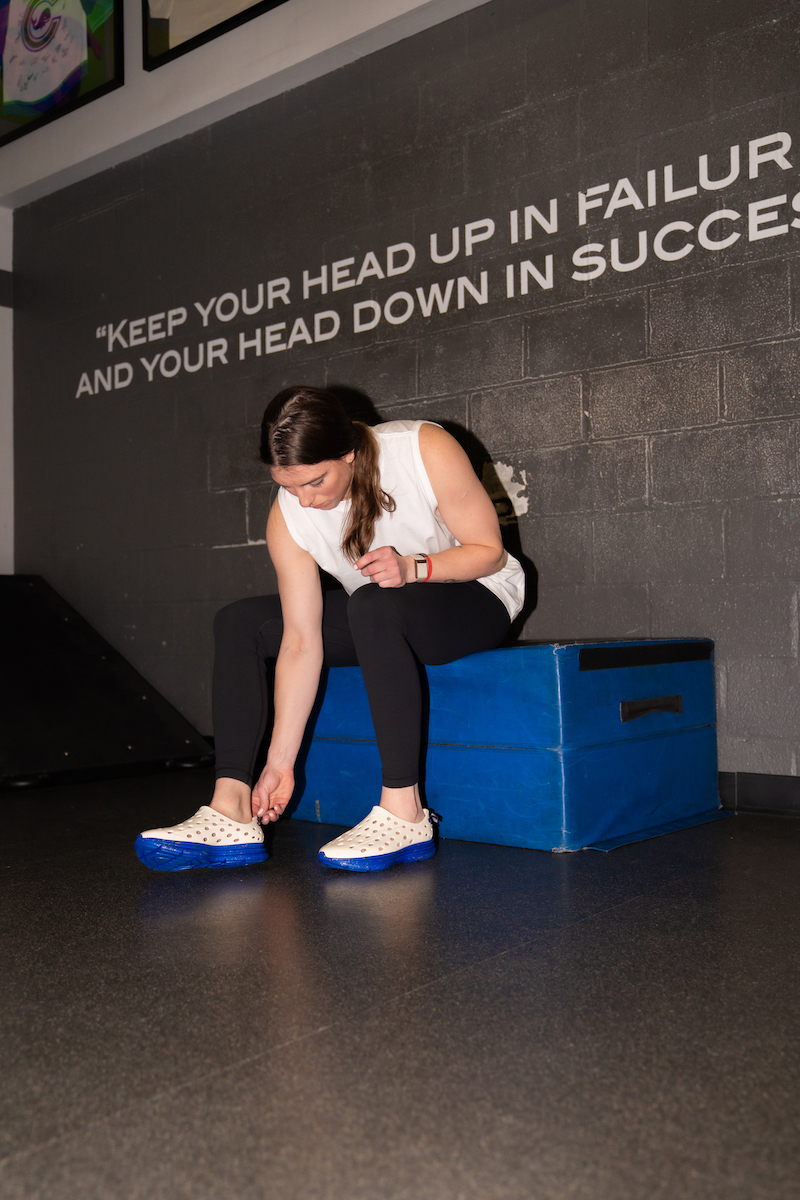 The Kane x Knight shoe design is inspired by Knight's mission to empower young female athletes
Westport, CT (July 13, 2022) /SPORTSWIRE WOMEN/ – Kane Footwear is thrilled to announce the release of their Kane x Knight shoe, designed by hockey star Hilary Knight in honor of her journey in women's sports. The Antique White/Blue colors remind Knight of her childhood, and how much she's overcome to get to where she is today, while the back hang loop features Knight's mantra: "Dare to Be ____."
As an Olympic athlete, Knight knows the importance of building recovery into her routine. She skated in the 2022 Olympics to help USA Hockey secure the silver medal in Beijing, and has previously won eight World Champion titles. On top of scoring goals for her team, Knight has also been on a mission to empower women breaking into hockey and other competitive sports.
"Hockey is a great game," Knight explained. "I wanted to break through ice ceilings in hockey so other young girls don't have to, and so those girls will forever have a place to play the sport they love."
Knight was excited to partner with a brand that shares her mission to have a positive impact on people's lives. Together, Kane and Knight are helping athletes overcome all types of obstacles – from physical recovery to mental hurdles.
"When the odds are stacked against you and everyone thinks you shouldn't or you can't, whatever negativity or obstacle presents itself, "Dare to Be" was such a powerful phrase that helped flip internal narratives to feel bold and empowered to overcome any obstacle in my journey forward," Knight said.
Kane brought Hilary onto their athlete team in February 2022, impressed that she continues to pursue her sport even after a lifetime's worth of successes. "Hilary embodies our 'Come Back Better,' motto," John Gagliardi, CEO and Founder of Kane Footwear, said. "After years of performing at the highest level that an athlete can, she continues to shatter records and shatter expectations of what women are doing in sports."
The Kane x Knight shoe will be available at KaneFootwear.com. For all Kane Footwear media inquiries please reach out to Maddie Jarrard: maddie@purpleorangepr.com.
About Kane Footwear
Headquartered in Westport, CT, Kane is a footwear brand dedicated to the recovery of body and planet. Implementing expert driven design, biobased manufacturing, and modern aesthetics, Kane is creating active recovery footwear for mindful movers. Their flagship Revive slip-on, designed in collaboration with Board Certified foot and ankle surgeon Dr. Dan Geller, is built with eco-based materials and an active recovery design that promotes healing. John Gagliardi, Kane's founder and CEO, spent over two years to research materials, design and develop the Revive. You can learn more at www.kanefootwear.com.
Media Contact: Maddie Jarrard
Purple Orange PR
615.686.3198
maddie@purpleorangepr.com