Levine Law Group – CCB to Welcome New Sponsors and Riders in 2023
December 23, 2022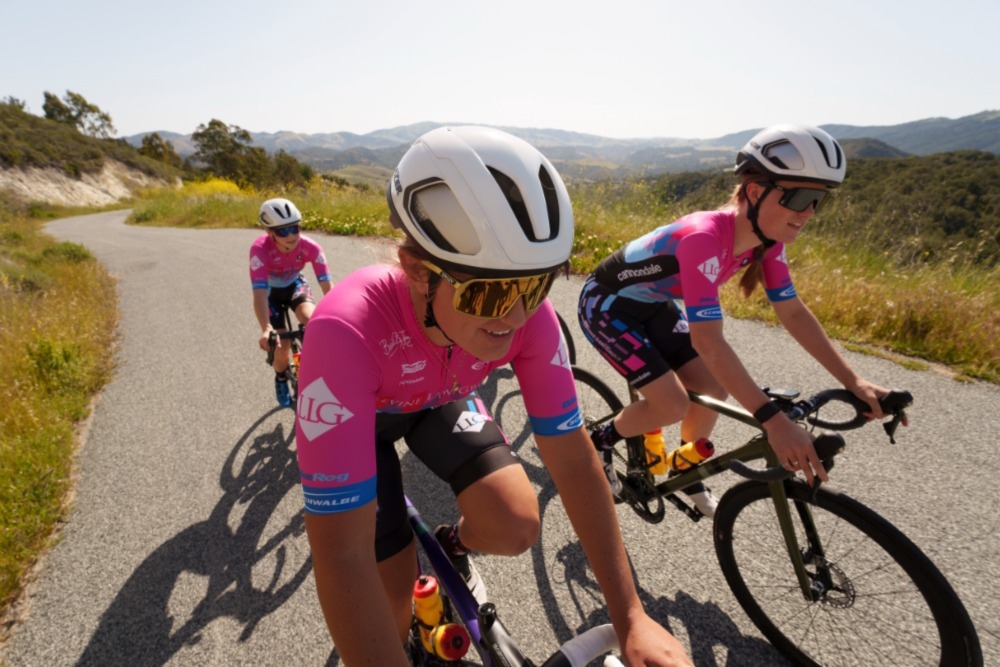 Team to continue as CCB - Alpine Carbon p/b Levine Law Group
BOSTON, Mass. (December 23, 2022)/SPORTSWIRE WOMEN/ – The Levine Law Group – CCB Elite Women's Cycling Team gains increased support for 2023 with the addition of co-title sponsor, Alpine Carbon. With this new partnership the team remains the premier women's development team in the U.S., having sent four riders onto professional contracts for the upcoming season. In keeping with the team's roots both historically in New England and in U.S. based criterium racing, the program combines support for athletes in their journey within the sport of cycling as well as in pursuit of higher education through athletics.
"After a season of working through a merger of two programs, heading into 2023 we're poised to really grow," said Sports Director Lauren LeClaire. "While many of our 2022 athletes moved on to professional opportunities for the upcoming season, it gives us a chance to bring in new riders who can learn together in 2023 and beyond. That also means we are doing our job in developing riders and sending them onto bigger things. While we can celebrate our successes, I'm excited to look ahead to the potential and possibilities for the team and our athletes in the coming years."
Honoring CCB's legacy in New England, the team has added several New England based riders including Tokyo 2021 Olympic rower Kendall Chase and rising talent Katherine Rusch. With the loss of many established races and teams in the New England region, there is currently no pathway forward for young women in the region to gain experience outside of what few local opportunities remain. CCB – Alpine Carbon aims to create a pipeline for women's development with a focus on the New England community.
"Alpine Summit Energy Partners, through its wholly-owned subsidiary, Alpine Carbon, LLC is pleased to be the title sponsor for the CCB women's cycling team in 2023. We are delighted to support the success of a premier women's cycling team and to contribute to the inclusive growth of such a dynamic sport," said Craig Perry, Chairman & CEO of Alpine Summit Energy Partners.
Levine Law Group of Mooresville, N.C. remains involved as the presenting sponsor of the team. As a long time supporter of the program, LLG looks forward to the continued growth of the team and the opportunities that they are able to help provide. Along with LLG, the team is pleased to welcome back long term supporting partner, Friends & Family Dental of East Providence, R.I.
Other returning sponsors of the program include Sportful, who will provide all on-bike clothing. "Sportful is proud to be a returning technical partner of the women's development team, CCB-Alpine Carbon," said Paul Whitfield of Sportful. "It's an organization that places an emphasis on giving back to the cycling community and the development, both on and off the bike, of the next generation; a mission that very much aligns with our goals and aspirations for the sport."
Returning bike partner, Cannondale, will provide the bikes for riders to train and compete on across multiple disciplines. The stalwart support from the Connecticut based bicycle manufacturer has been a critical component to the continued success of the program.
Additionally, the team welcomes returning technical partners Enduro Bearings, Shimano, Papa Wheelies, Built by Jerry Wheels, Lazer, Schwalbe, PowerBar, Finish Line, ESI Grips, and HotShot. New for 2023 CCB welcomes ProThirteen Coaching and J. Gibley Tuxedos.
2023 roster is as follows:
Kate Seiler
Lizzy Gunsalus
Betty Hasse
Natalie Quinn
Kendall Chase
Katherine Rusch
Grace Saccone
Ella Grier
Additional announcements and a new team website are coming soon.
About CCB:
CCB was founded as a cycling club in Basingstoke, England over 50 years ago. In 1976, several CCB members immigrated to the US, bringing along with them the CCB jersey and subsequently founding the CCB International cycling club in 1976, based in the Boston/North Shore area. The club currently has over 300 members worldwide. Over the years, CCB has been a perennial powerhouse in both US domestic and international racing and is now the longest continually-running elite/pro team in the US and one of the most well known development teams in the world. The team has morphed over the years, always trying to serve emerging development needs in US cycling. Most recently, the team exists as a U23 men's team that has operated internationally, competing in a strong calendar of professional races, and as a women's multi-discipline race team; both with the focus of supporting riders that are/have pursued a post-secondary education along with the cycling aspirations. The team has "graduated " 14 riders to professional teams over the last 7 years, more than any other program in the US. But more importantly, every rider that has come through the program in that time has gone on to complete (or is on track to) their post-secondary education, in line with the team philosophy of "education through athletics"
About Alpine Summit Energy Partners:
Founded in 2018, Alpine Summit Energy Partners is a U.S.-based energy developer and financial company focused on maximizing growth and return on equity
Executive team is collectively the largest group of owners, and operates to maximize returns to all shareholders
Capital allocation decisions are core to executing our business strategy
Our business model is designed to provide improved access to wellhead economics by limiting excess land investment and containing SG&A costs
Alpine Summit is actively pursuing a sustainable approach to both limit the environmental impact of its operations and mitigate legacy sources of pollution in the industry
About Levine Law Group:
Michael J. Levine co-founded Mills and Levine, PA in 1998 before solely taking the firm over in 2015, creating Levine Law Group, PA. The practice concentrates in the areas of personal injury, workers' compensation, nursing home neglect, and complex litigation. Levine Law Group works closely with their clients and are as aggressive as necessary in pursuing the compensation that is needed and deserved. Levine Law Group believes strongly in holding individuals and companies to the highest standards of honesty, integrity, and values.
More on our partners:
Alpine Summit Energy Partners
Levine Law Group
Sportful
Cannondale
Enduro Bearings
Friends & Family Dental
ProThirteen Coaching
Papa Wheelies
J. Gibley Tuxedos
Lazer
Shimano
Built by Jerry
Schwalbe
PowerBar
Finish Line
ESI Grips
HotShot