LIV Expands Embolden Series
February 15, 2022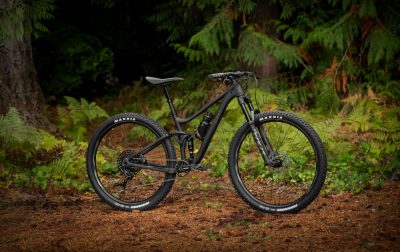 Full-suspension mountain bike now available in two wheel sizes
NEWBURY PARK, Calif. (Feb. 15, 2022) /SPORTSWIRE WOMEN/ – Liv, the company dedicated to getting more women on bikes, today revealed its expanded Embolden series. Perfect for those new to trail riding, the Embolden is a full-suspension mountain bike now available in two wheel sizes to give riders more options when selecting the right fit based on the terrain they want to ride. Available with 27.5- or 29-inch wheels, an ALUXX-Grade Aluminum frame, and 120mm of FlexPoint Suspension, the Embolden is a versatile trail bike that can conquer tricky climbs, rowdy descents, and chunky rock gardens with ease.
"First launched in 2016, the second generation Embolden series brings the addition of a 29-inch wheel option," said Ludi Scholz, Liv off-road category manager. "Now there is even greater capability provided to the aspiring trail rider who demands a featured-packed trail bike for developing their skills."
Trail Ready
Formed from raw materials in Liv's forging facility, the Embolden's proprietary ALUXX-Grade Aluminum frame alloy is 30% stiffer than traditional 6061-series aluminum while reducing overall weight. Liv's single-pivot FlexPoint Suspension delivers 120mm of rear wheel travel paired with 130mm of travel up front to navigate trail obstacles and singletrack terrain. To complete this trail ready mountain bike, the Embolden series features a dropper seatpost, Liv Sylvia trail saddle and 1x drivetrain.
Wheel Options
The Embolden series is available in a range of frame and wheel sizes to allow riders to find the best fit and ride experience. Both the Embolden 27.5- and 29-inch wheel models have an updated rear triangle featuring 148mm boost hub spacing with a 12mm through axle and 35mm handlebar and stem setup. Additionally, the 29-inch wheel version has a redesigned toptube and downtube that incorporates Tensio, Liv's visual technology that encompasses industrial and graphic design to create an organic silhouette with dynamic lines and shapes for a fast and fresh look, along with updated cable ports and a 55mm chainline.
With boost hub spacing, the Embolden delivers improved stiffness, trail handling and increased tire clearance allowing riders to run up to 2.6-inch tires on 27.5-inch wheel models and 2.4-inch tires on 29-inch wheel models.
Designed for Women
Liv is the only comprehensive cycling brand that is committed solely to women. By investing 100% of its resources, focus and commitment into engineering bikes and gear that optimize the ride experience for women, Liv is creating more product options for women who ride.
To deliver the ideal geometry for most women, Liv relies on the decades of experience of its engineering team. Every size within the Embolden series is custom-designed using only women's body dimension data and riding experience. Liv's product team also works closely with its partners to tune suspension with women riders and select components that complement each frame size and match the bike's intended use to offer as close to a perfect fit as possible from the first ride.
Embolden 27.5-inch wheel models are available in XS, S and M, and 29-inch wheel models are available in S, M, and L. The expanded Embolden series will be available worldwide starting this spring. Learn more at www.liv-cycling.com.
About Liv
Liv is the only comprehensive cycling brand in the world dedicated solely to women. Founded in 2008 by Giant executive Bonnie Tu as part of the Giant Group, Liv creates innovative bicycles and gear to fit and perform at the highest level. Liv aims to empower all riders from beginners to pros. With a global team of retailers, athletes and events, plus a growing online presence focused on riding skills, bike maintenance, nutrition, travel, and other experiences – Liv strives to build community and be the number one resource for women cyclists around the world. Learn more at liv-cycling.com.
###
Media Contact:
Brook Hopper, Liv
(805) 340-5034 or BrookHopper@liv-cycling.com