Oboz, Osprey and Outdoor Research Join Forces to Sponsor 150 Women in #over50outside – a Supportive Community for Women Over 50 Who Love the Outdoors
August 3, 2021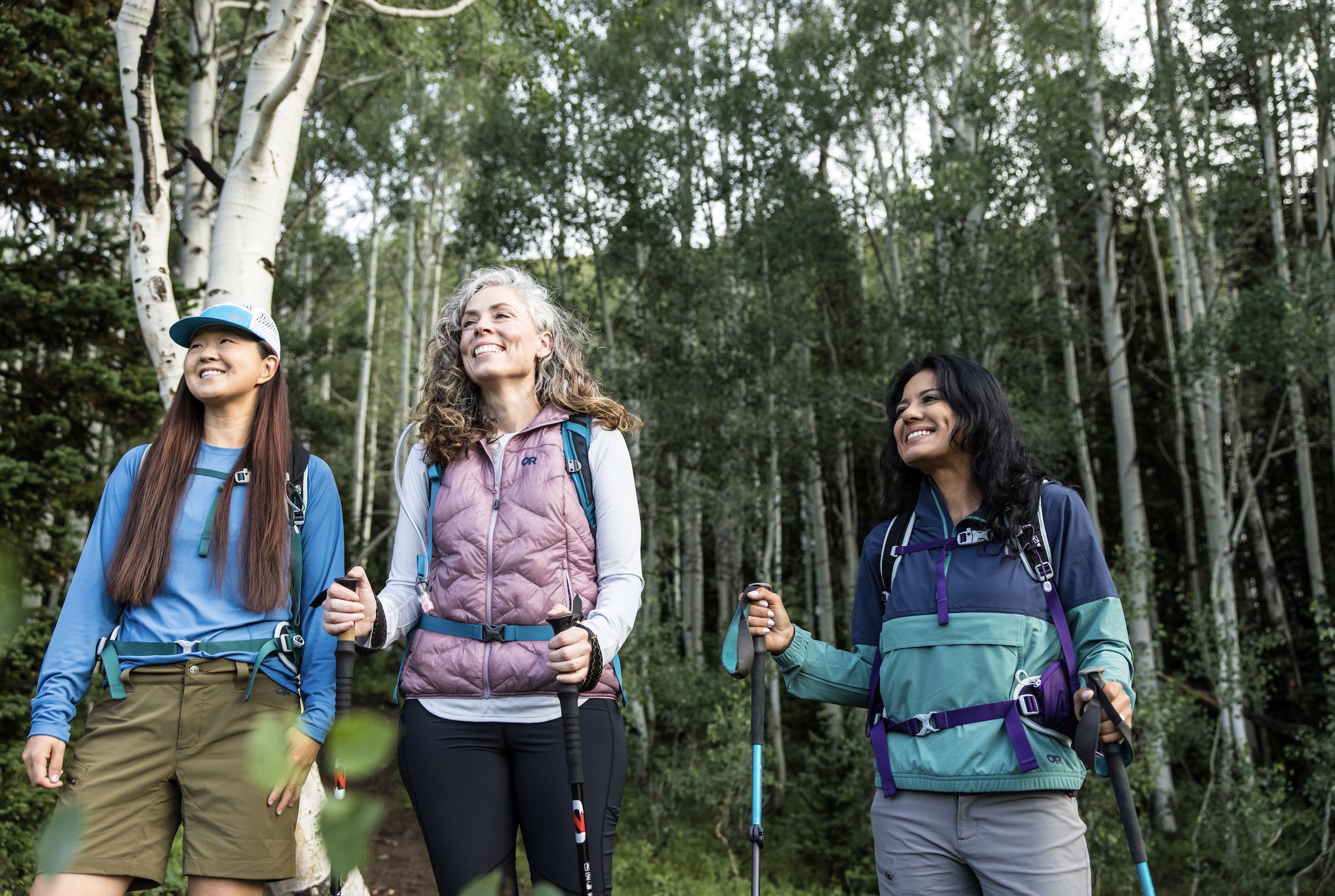 The program aims to motivate and empower women over the age of 50 to get out on the trails weekly to build their confidence and well-being.
Cortez, CO – August 3, 2021 – Oboz, Osprey and Outdoor Research in collaboration with 52 Hike Challenge and In Solidarity, today launched OVER 50 OUTSIDE. This supportive community will bring together women over the age of 50 who are passionate about the outdoors. The program aims to motivate and empower them to get out on the trails weekly to build their confidence and well-being.
To kick off the initiative, OVER 50 OUTSIDE is offering sponsorship to 150 women. The sponsorship includes the 52 Hike Challenge Ultimate Package, monthly inspirational check-ins, gear advice, and fun perks from brand sponsors. Applications are open now through August 15, 2021. Hikers of all experience levels are encouraged to apply at 52hikechallenge.com.
"We are excited to partner with such great companies to provide expert advice as well as community for this cohort of women, which will give them the best chances of success in completing their 52 Hike Challenge," said Phillip Stinis, co-founder of the 52 Hike Challenge.
The year-long program launches in September 2021 with a virtual kick-off followed by monthly check-ins covering topics such as hiking gear for the different seasons, recreating responsibly as well as sessions on conditioning, nutrition and more.
For more information, visit 52hikechallenge.com and follow #over50outside on social media.
 About 52 Hike Challenge
The 52 Hike Challenge is a global movement empowering individuals to take a personal journey to discover the physical, mental, spiritual and emotional benefits gained through hiking once a week for a year. Thousands of people all around the world are joining in community and taking the challenge to help change their lives in a positive way, one step at a time. For more information visit www.52HikeChallenge.com
About In Solidarity
In Solidarity Project – Outdoor CEO Diversity Pledge works to build a better, stronger, more diverse outdoor industry. They work closely with industry partners to sign The Outdoor CEO Diversity Pledge and to facilitate and lead DEI-focused consulting projects, training workshops, and speaking engagements. They focus on enhancing representation across staff and executive teams, media and marketing, and athletes/ambassadors. By building a relationship of support, empathy and understanding, versus external skepticism and internal stress, they are moving the outdoor industry towards authentic inclusion. Insolidarityproject.com 
About Oboz
Founded in 2007, Oboz Footwear builds 'True to the Trail®' outdoor footwear inspired by the vast 18 million-acre Greater Yellowstone Ecosystem surrounding the company's Bozeman, Montana home. This rugged wilderness inspires Oboz to build shoes and boots that deliver unmatched fit, unrivaled feel and exceptional performance on any trail, anywhere. Oboz plants a tree for every pair of shoes sold. For more information, visit https://obozfootwear.com/.
About Osprey 
Founded in 1974 and based in Cortez, Colorado, in the foothills of the San Juan Mountains, Osprey designs the highest performing and longest lasting carry solutions on the market including technical packs for outdoor, travel and everyday adventures. In addition to creating top-quality packs, the Osprey team is focused on becoming the most progressive, transparent and sustainable hardgoods brand in the world. Osprey's dedication to create innovative, high performance, sustainable gear reflects the brand's love of adventure, devotion to the outdoors and steadfast resolve to leave the world better than they found it. To learn more about Osprey and its products backed by their industry leading All Mighty Guarantee, visit osprey.com.
About Outdoor Research
Outdoor Research was built to methodically create, protect, and prepare for the future. Since 1981 we have demonstrated our expertise in the outdoor, medical, and tactical industries with award-winning protective equipment. Our ambassadors, non-profit partners, and employees sustain us through seemingly impossible challenges. Join us at outdoorresearch.com.