Polar Explorer Caroline Côté is Breaking Records to Raise Awareness
September 8, 2022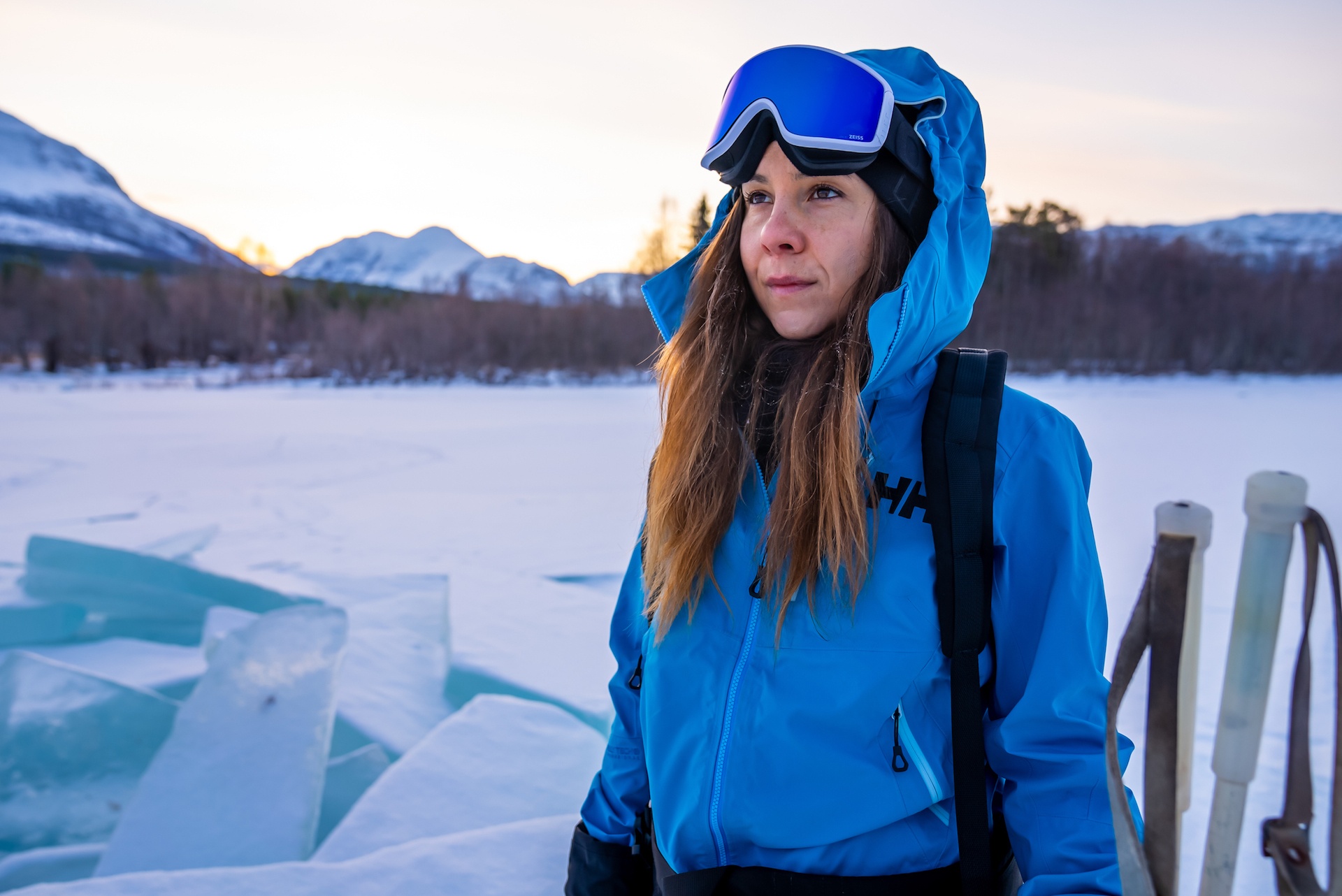 Helly Hansen and POW Canada Combine Forces in Support of South Pole Expedition
VANCOUVER, CANADA (September 2022) /SPORTSWIRE WOMEN/ – For so many, the knowledge that winter follows fall is a certainty. For many others, like Helly Hansen ambassador and polar explorer Caroline Côté, the knowledge that winters are critically endangered drives them to action. Caroline, a professional adventurer and endurance athlete, has a deep love for icy places and educating the public about their importance through the stories her footage and images tell.
This November, Caroline will start her attempt to become the fastest woman to reach the South Pole on skis, in complete autonomy, 1130 km across Antarctica. Her goal is to break Johanna Davidsson's record of 38 days, aiming for 36 days. The expedition will begin at Hercules Inlet with Caroline traveling seven to ten hours each day through wind, snow and whiteout conditions, and temperatures ranging from -25 degrees Celsius to -40 degrees Celsius. Less than ten women in the world have ever achieved reaching the South Pole on a solo ski mission. Testing her fitness, stamina, determination and mental strength, Caroline considers this challenge the most important of her career.
"It is a project that goes beyond anything I have faced in the past," says Caroline, who has been a part of several expeditions in unexplored and uninhabitable places, including a North Atlantic Ocean sailboat crossing, several Antarctic expeditions and a fully autonomous trek for 63 days through the Svalbard archipelago.
But this time, it's different: Caroline is well aware she will undoubtedly face the effects of climate change and this could be her last expedition. "Will I be able to practice my profession as an explorer and guide in polar environments in the next few years?" she reflects. Her ability to adapt to this challenge mirrors what humans will have to do to avert the consequences — or face them. "I want to protect these places. I know that I will inevitably leave a trace there."
A secondary but no less important goal of this project is to raise awareness of the environmental issues clearly visible in Antarctica, and the mission and activities of expedition partner Protect Our Winters (POW) Canada. Caroline and POW have set up a donation space which will help support both her journey and furthering POW's mission. "I decided to join POW Canada in my campaign because I know that together we can make a big difference," she says. For all donations, POW will issue a charitable receipt and donate half of the proceeds to Caroline to support the project. The total donation goal is $10,000.
Helly Hansen, also a proud POW partner, will supply much of the apparel and gear Caroline has come to trust since becoming a global ambassador in early 2020 that will be essential for her success. In addition, aiming to help spread her message far and wide, Helly Hansen is the presenting sponsor of an upcoming 6-part miniseries launching in October. Set in Greenland, the videos will depict all that it takes to go on an adventure in a polar context as she prepares for the greatest expedition of her life.
"Sharing my passion with everyone through documentaries about my expeditions allows me to have a voice, to talk about the climate issues of the places I visit, but is it enough?" Caroline asks. There is only one answer she has: "I dare to accept the challenge."
About POW Canada
Founded in Colorado in 2007 by the pro snowboarder Jeremy Jones, Protect Our Winters saw its expansion in Canada in 2018. POW Canada is a passionate community of outdoor enthusiasts, professional athletes and industry brands uniting to advocate for policy solutions to climate change. They believe our love of adventure in nature demands our participation in the fight to save and protect it.
POW Canada's vision is for all communities and outdoor playgrounds to be healthy, safe, and resilient to a changing climate. They envision a future where we've transformed our economy and energy systems and cut our carbon emissions in-line with science-based targets the world agreed to in the Paris Climate Agreement.
To learn more about POW Canada or join their community, visit www.protectourwinters.ca.
About Helly Hansen
Founded in Norway in 1877, Helly Hansen continues to develop professional grade apparel that helps people stay and feel alive.  Through insights drawn from living and working in the world's harshest environments, the company has developed a long list of first-to-market innovations, including the first supple waterproof fabrics more than 140 years ago. Other breakthroughs include the first fleece fabrics in the 1960s, the first technical base layers in the 1970s, made with LIFA® Stay Dry technology, the patented H2Flow™ temperature regulating system, and the revolutionary lighter, warmer LIFALOFT™ insulation. Building on Helly Hansen's proprietary HELLY TECH® waterproof/breathable system, the technical outdoor brand has most recently introduced the award-winning LIFA INFINITY PRO™ – the company's most innovative and responsible waterproof/breathable technology to date.
Helly Hansen is a leader in technical sailing and performance ski apparel, as well as premium workwear. Its uniforms are worn and trusted by more than 55,000 professionals and can be found on Olympians, National Teams, and at more than 200 ski resorts and mountain guiding operations globally.
Helly Hansen's outerwear, base layers, sportswear and footwear are sold in more than 40 countries around the world and the company is owned by Canadian Tire Corporation (CTC). To learn more about Helly Hansen's latest collections, visit www.hellyhansen.com.
# # #