Professional Road and Track Runner Maggie Montoya Joins Salomon Athlete Team
August 11, 2022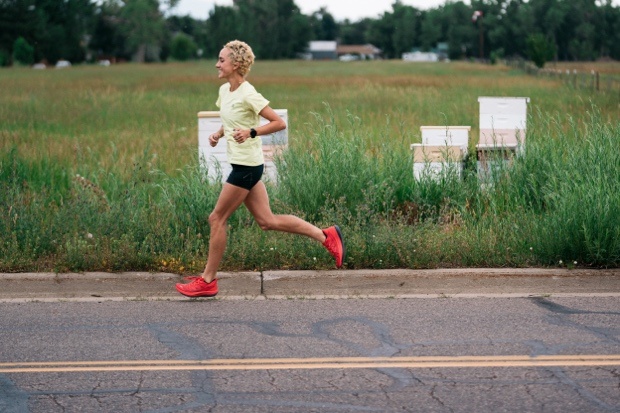 Montoya is the second elite road runner to join the North American Salomon athlete team
OGDEN, Utah (August 11, 2022)/SPORTSWIRE WOMEN/ – Today, Salomon is expanding its roster of U.S. road running athletes with the addition of professional road and track runner, Maggie Montoya. Montoya joins the Salomon team with an impressive resume of running accomplishments, including her debut marathon time of 2:29:08 from the Chevron Houston Marathon in January 2022. Her strength, tenacity and authenticity make her a valuable addition to the Salomon family.
"I'm excited to join the Salomon team and be a part of the next stages of the brand's growing road running presence in North America," says Montoya. "I've enjoyed racing in the S/Lab Phantasm in my last several road races and look forward to continuing my training in Salomon as I prepare for my fall marathon. I'm grateful for this opportunity to represent Salomon alongside my teammate Noah Droddy."
Montoya ran Division I track at Baylor University in her collegiate years, where she led Baylor to the NCAA Championships in her final season by placing second and earning the All-Region honors at NCAA South Central Regional in a season-best 6,000-meter time of 20:21:7. Following college, Montoya moved to Boulder, Colorado to join the Roots Running Project, training with fellow Salomon athlete Noah Droddy. Within five years of training with the group, she has hit several personal records, including a 32:06:87 10K that earned her a spot in the 2021 US Olympic Trials and a recent 15:19 5K at the MT SAC Relays in April 2022.
While training with Roots Running Project, Montoya worked as a pharmacy tech at a King Soopers in Boulder, Colorado. She had just started her shift on Monday, March 22 when a gunman opened fire in the grocery store. Montoya survived the shooting and later shared a candid retelling of the events on her Instagram page. During the months following, Montoya took personal time to heal and slowly began to return to running, ultimately earning a personal record at the time and impressing many at the USATFA Golden Games in May 2021.
Montoya has her sights set on a marathon this fall, where she will be wearing a full Salomon kit and racing in the Salomon S/lab Phantasm shoes.
"We are so thrilled to finally announce that Maggie has joined the Salomon family," says Erin Cooper, Senior Marketing Manager – Run & Outdoor, for Salomon in North America. "We've been really thoughtful about who we want to support and have represent the brand, and Maggie is a perfect fit. She is incredibly talented, and with a 2:29 debut marathon we know she has big things ahead. She will be an integral part of the Salomon brand and product development as we continue to expand within road running."
Montoya will be joining the Salomon team for a 2.5-year partnership that includes representing Salomon apparel and footwear. Montoya will also play a key role in elevating Salomon's road running brand stories through her personal platform.
To learn more about the partnership, please reach out to Corinne Baud at corinne.baud@rygr.us.
###
About Salomon: Born in the French Alps in 1947, Salomon is committed to pushing the boundaries of mountain sports through the creation of innovative equipment that allows people to play, progress and challenge themselves in their chosen outdoor sports. The company produces and sells premium footwear, winter sports and mountaineering equipment, hiking equipment, and apparel specifically designed for all of those disciplines. Products are developed in the company's Annecy Design Center, where engineers, designers and athletes collaborate to create innovative solutions that continually improve the outdoor experiences of those who see nature as a vast playground.
Contact: Corinne Baud
corinne.baud@rygr.us
970-924-0704 ext: 2109