The Woman-Owned Brand Fierce Hazel Launch Their First Ever On-The-Bike Bags
April 3, 2023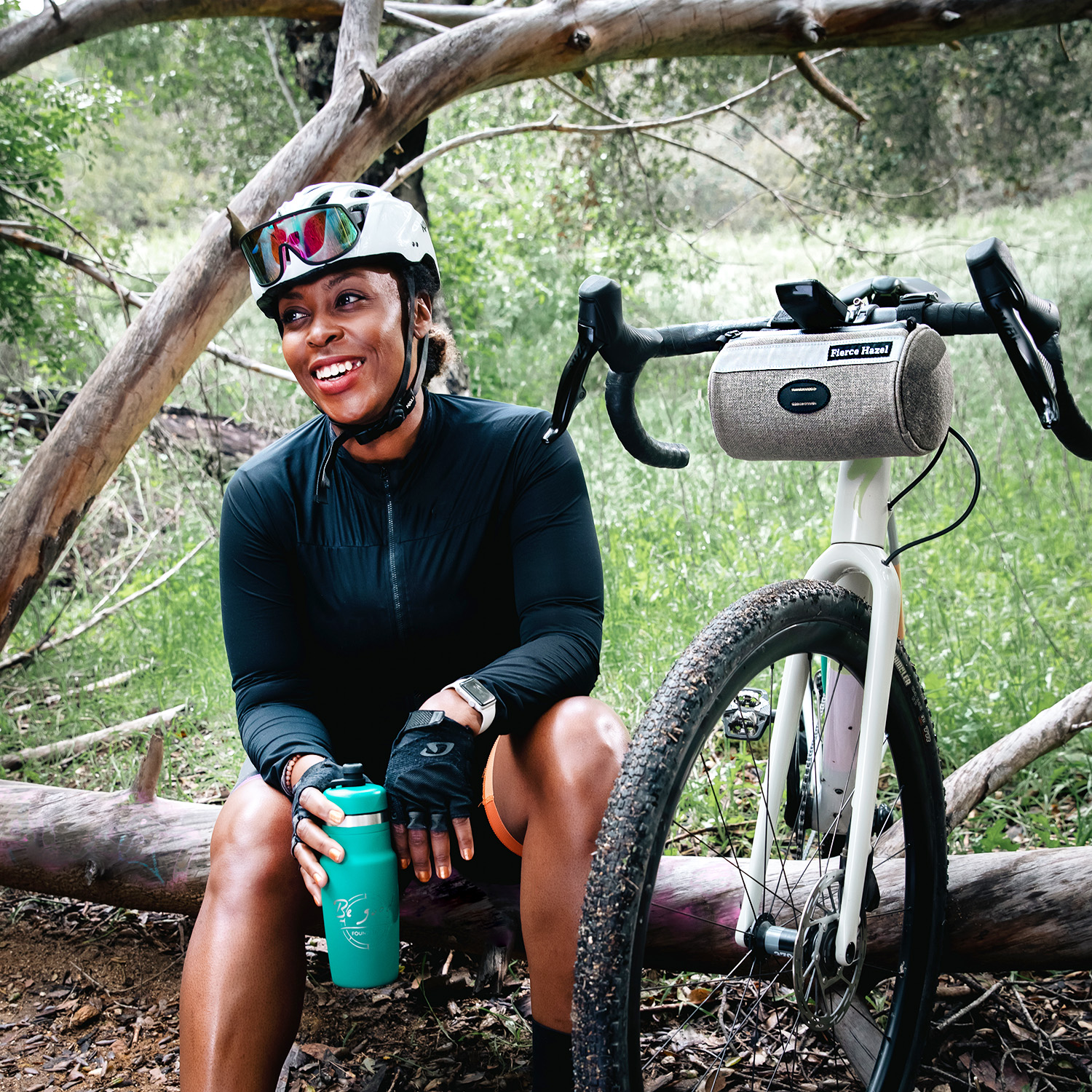 Durable and Eco-Friendly, The True Grit Handlebar and Saddle Bag Live Up To Their Name
Los Angeles, CA (April 3, 2023) /SPORTSWIRE WOMEN/ – Fierce Hazel, the woman-owned, sustainable cycling accessory company, just released its first line of on-the-bike bags. The True Grit Collection are the first-ever cycling bags constructed from factory deadstock material Olefin. This eco-friendly fabric is durable, weatherproof, and stain-resistant, making it perfect for gritty trails, wet roads, and everything in between.
Inspired by the independent and headstrong character Mattie Ross in the 1968 classic, True Grit, the matching handlebar and saddle bag combine a unique fabric with a function-first design that will be your trusty companion as you journey onto unforgiving roads and new frontiers.
"I wanted cool bike bags that fit in whether I was riding gravel, road, or just commuting around Hollywood," says founder Frankie Holt. "These bags are pretty darn tough! But also stylish and unique. Is it wrong to say they are everything I hope to be?"
True Grit Handlebar Bag: The bag's firm construction allows one-handed, on-the-bike access with exceptional durability. It promises to hold everything you'll need—from must-have gear for off-grid excursions to a burrito and a book for lunch on the town. Additional details include a YKK waterproof zipper, mesh side pocket, key fob, and a stabilizing velcro strap. ($89; Dimensions: 8" x 4.5" // Weight: 6.4 oz // Volume: 2 L)
True Grit Saddle Bag: The first bag to grab for any cycling adventure. This generously sized bag is large enough to carry two tubes, all your tools, and a few snacks. It features an inner pocket for ID and cards, a key fob, and an elastic strap to hold tools in place. Velcro attachment straps keep the bag secure.
($79; Dimensions: 7" x 4.5" x 4" // Weight: 3.8 oz // Volume: 0.9 L)
Features
Rugged, weatherproof, seam-sealed construction
Visibility features for increased safety
Materials: Upcycled Olefin shell, waterproof nylon interior, waterproof YKK zippers
Internal, ultra-light key fob and mesh pockets
Sustainably produced using factory deadstock
True Grit is part of the ever-growing line of FHZ bags crafted for every type of cyclist. The full line of Fierce Hazel bags are available at FierceHazel.com Retail prices range from $19 to $98, depending on product and size. You can also find the #GoFierce vibe on Instagram.
About Fierce Hazel: FHZ is a female-owned cycling accessory brand founded by art director, photographer, traveler, and avid cyclist Frankie Holt. The all-eco-friendly product line includes Echelon ride pouches, the ultra-light Tour de Fierce bike wallet, an Olefin backpack, a musette bag made from old fishing nets, and Tyvek card case. Durable, functional, and uniquely designed so you can worry less and experience more.
MEDIA IMAGES AVAILABLE: Dropbox: Link Here Flickr: Link Here
CONTACT: Frankie Holt
COMPANY: Fierce Hazel
EMAIL: frankie@fiercehazel.com
WEB: www.FierceHazel.com