Weston Backcountry X Artist Jessa Gilbert Collaboration
October 11, 2022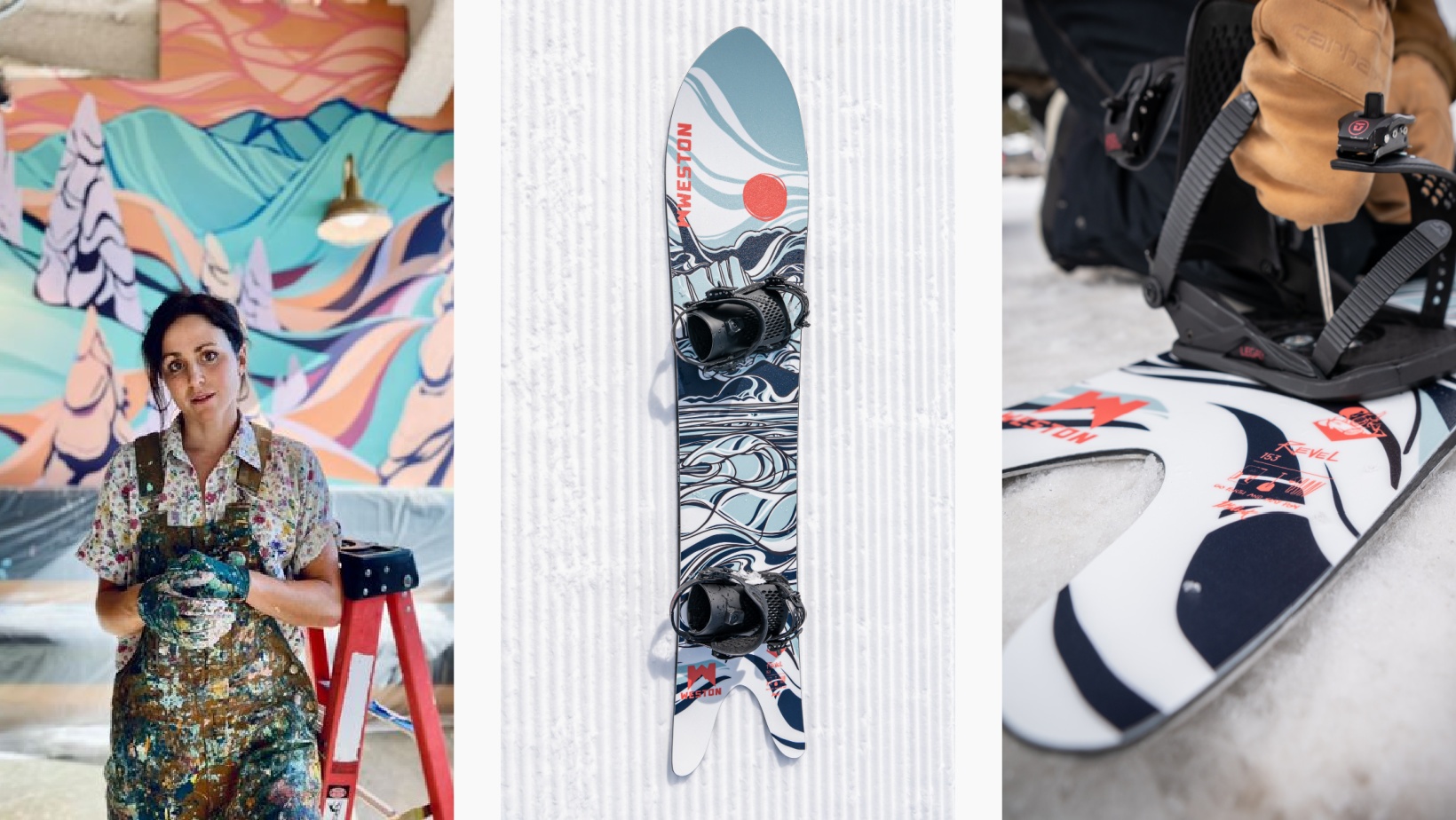 Introducing The Revel: A Women's Specific Swallowtail Splitboard & Snowboard
MINTURN, CO. /SPORTSWIRE WOMEN/ – Weston Backcountry announces the launch of its first women's specific swallowtail snowboard and splitboard shape, The Revel, which makes its debut as part of Weston's Mission Series, in collaboration with artist and Canadian Backcountry guide, Jessa Gilbert. A portion of the proceeds from the collaboration will help fund avalanche education scholarships in partnership with CAPOW.
Gilbert's work draws inspiration largely from her experiences surfing pow in Rishiri, Japan and working as a backcountry guide in interior British Columbia. Gilbert's artwork is about the human experience and temporality of wilderness. She aims to celebrate play and exploration, and moments in the wild. For the Revel, Jessa fluidly connected the waves rising above the Sea of Japan to the peak of Mt. Rishiri.
Inspired by the shape of Weston's tried and true Japow board, the Revel is Weston's first women's specific swallowtail shape, available in a 143, 148, and 153. The setback stance and rockered nose reduce surface area in the tail which creates serious float in the nose. The blend of sustainably harvested poplar and paulownia wood in the core keeps the board light and nimble. With a mid-flex, camber underfoot and rocker in the nose, the Revel floats through pow, turns with ease and creates memorable moments surfing the snow. Carbon stringers in the tail generate the ultimate snap and make it easy to weave through trees and tight turns effortlessly. Both the split and the solid feature a Castor Bean Based Rugged Nylon topsheet and an incredibly fast Sintered Durasurf 4001 base material.
This series is in collaboration with CAPOW, an ACMG certified guiding team based in Revelstoke, BC that aims to create an approachable environment to provide the knowledge of the backcountry and importance of safety in the mountains with those who want to learn.
In addition to partnering with CAPOW in an effort to break down the barriers of entry into the backcountry and offer the most seamless experience possible, Weston listened to feedback from the backcountry community and created an all-new line of custom cut skins for the 22/23 season. The skins feature a low-profile interface and ensure even and consistent skin placement for the optimal touring experience and the Revel Split will feature a fully integrated z-hook attachment, a tail notch and a custom fit notch clip.
About Weston
Since 2012, we at Weston have been building bomber splitboards, skis & snowboards, loving Mother Earth, fostering community, supporting important causes, spreading backcountry education, dirt bagging, slaying pow, and chasing freedom. Led by a crew that believes friends do in fact exist on a powder day, our objective is to bring powder to the people.
About Jessa Gilbert
Jessa's paintings and drawings emerge from her experiences in the backcountry, blending the creation process with adventure to capture the spirit of exploration during her time outside. These adventurous artworks also serve as studies for murals, bringing backcountry adventures back to urban and daily life. Relocating to BC in 2013 changed her art focus, and she has officially admitted to being an experiential landscape artist. Her pursuits of art and adventure led her to become a backcountry guide as well. You can find her at Baldface Lodge in the winter working as a Second guide, or in the mountains, at the beach, or on her bike exploring and working on the #getoutoftownvibe series.
About CAPOW
CAPOW is short for Canadian Powder Guiding. CAPOW is an ACMG certified guiding team and recognized as leaders in a growing backcountry community; one that believes in sharing specialized mountain travel knowledge with recreational enthusiasts in an approachable attitude. Canadian backcountry guides with approachable vibes.