World Series CEO Heidi Muller Talks about Life, Family and Adventure Racing
March 13, 2022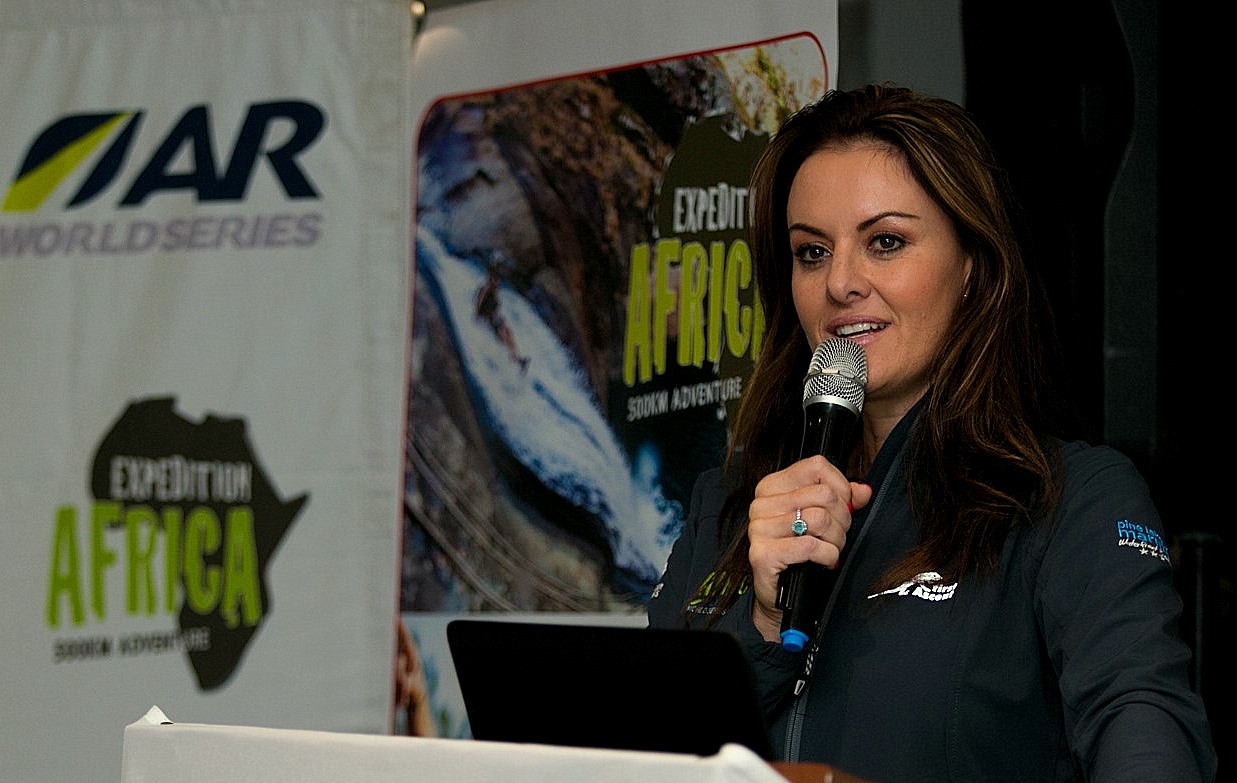 Profile of Heidi Muller; adventure racer, mother, business woman and event organiser
/SPORTSWIRE WOMEN/ – Careful consideration doesn't always play a part when choosing what you do in life.  Sometimes it's all about emotion, ambition, and taking the opportunities that come your way.
When Heidi Muller first went adventure racing 24 years ago, without really knowing what she was getting into, it may not have been a sensible choice (is it for anyone?), but she was hooked (aren't we all?). The sport has been a big part of her life ever since.
When she stopped competitive racing to start a family, and her husband Stephan suggested organising a 500km expedition race, she didn't hesitate.
She "gave birth, got in the car, and scouted a 500km race in Hermanus".
Expedition Africa was born, and thrived, and celebrates a 10 year anniversary in a couple of weeks time in Lesotho.  It is a race which is tagged #itsallaboutlove and teams who race EA soon know what that means.  The warm welcome, being part of a close race community, and the attention to detail driven by a desire to do the very best for every team and racer, are all a part of the EA brand.
Staging an expedition adventure race is both life-enriching and life-consuming, but when given a chance last year to step up to the role of CEO of the Adventure Racing World Series, Heidi grabbed the opportunity.  She has put her own personality into the management of the series ever since, with impressive results.
"Looking back on those first small races we did, when adventure racing was a hobby, we were not thinking ahead, to organising expedition races or a World Series, but you don't know where life's path will take you.  Life is exciting!" She said.
It got a lot more exciting, and a lot harder with the AR World Series to run. "The complexity of working with so many races across the globe is a challenging," she said. "They have different languages and cultures, different business strategies and are in so many time zones, so you are working day and night, and its Zoom, Zoom, Zoom!
"I spent a lot of time understanding how this organisation is different to anything else, and above all getting to really know the Race Directors. There are so many different personalities and they are the strength of the ARWS.  It's like a racing team, working together we can achieve anything, and I have to keep everyone working together towards our common goals.
"To do that I need empathy, to understand we are all human and have other troubles in life and in our own different countries, some of us have families and young children, and we are all trying to survive and do our best at something which is incredibly hard.  We are all doing it for the love of the sport too, and putting a huge amount of time and effort into our races."
"It's challenging to balance all this with my own life as well, with 3 children and our own events to run, and living as we do in South Africa.  It has made me realise just how much Craig and Louise (the ARWS owners) have accomplished, really just the two of them building the series up over a decade of hard work, and with their own young family as well.
"They have grown the series, established rules, a referee programme and rankings and set an international standard for our sport.  When they decided it was time to concentrate more on other things, and for someone else to help take the ARWS onto the next stage, they came to me, and I want to thank them with all my heart for having so much faith in me."
Heidi's adventure racing and business experience made her a natural choice.
She has previously worked as a Director of Glam Productions, organising fashion, corporate and lifestyle events, including bridal shows, golf days and company conferences.  Her experience in business finance, recruiting, production, and media has made Kinetic Events a successful international adventure racing brand, and is now applied to her role as ARWS CEO.
With Kinetic Events she has organised over 150 races, including many international events in challenging locations and different countries.  The company has twice organised Expedition India, and staged races on Rodrigues Island in the Indian Ocean and in Eswatini, and their next race is in the Kingdom of Lesotho.
Expedition Africa always attracts over 50% international entries and has adventure racing connections worldwide. Heidi and Stephan have mentored many racers, some now ARWS race organisers themselves, and they have attended 5 Adventure Racing World Championships, just to watch and learn.
She says without a partner who understands adventure racing and is 100% supportive, it wouldn't be possible to stage big races or manage the ARWS.  "Without that shared love of AR no relationship would survive, there would be a divorce in no time!" She said. "Stephan is my anchor and a pillar of strength. He can advise, I can bounce ideas off him and he takes the pressure off at our own races."
[Many ARWS races are organised by couples, and perhaps that shouldn't be a surprise in a sport which has always required co-ed teamwork.]
"We couldn't manage without my Mum too," she said. "We do things as a family, and she so often looks after the kids for us."  That's something many adventure racing couples will understand!  She added, "I see the ARWS as a big family."
In the past 6 months the ARWS has expanded with the addition of new Demonstration races in the US (Endless Mountains) and Brazil (Malacara Race), a well established race recently joining the Oceania Series, a new ARWS Regional race was held in India, and the ARWS Europe series is about to start with both the first two races nearly full.  Regional finals have been held in Africa and South America as well.
"The new races joining are really exciting," said Heidi. "Take the Malacara race in Brazil, which just joined for 2023.  I've worked for 2 years with Leo and Benito, and their enthusiasm is so energizing.  Being a part of ARWS has been their dream and it's wonderful to do something for them, and for adventure racing.  For me, it's about helping others. I'm a people person. That's who I am."
She has worked hard on establishing the ARWS Europe series and says she is looking forward to announcing the 2023 World Championships later this year.
"It will be held at the end of the ARWS season, as it always is, probably October next year, but I can't say where it will be yet.  We have the next 3 AR World Champs lined up and they are all in amazing places!
First, we have the 2022 AR World Championships at Expedicion Guarani to look forward to, and I know the Race Director, Urtzi Iglesias, will set a world class course for us and the people of Paraguay will welcome everyone to their country."
Looking to the future Heidi wants to ensure that the series continues to set the highest standards.
"No race or organisation is ever perfect and we are always looking at ways to improve," she said. "We are continually working on our partner and sponsor relations, media and rules, and at the same time helping new regional races to get started.
"There is a lot to learn when organising your first race and we are lucky to have the most experienced Race Directors in the world who can act as mentors and advisors."
She concluded, "Our aim is always to create the most incredible adventure races for all the teams around the world who support the Adventure Racing World Series."
[The next incredible adventure race for Heidi is her own Expedition Africa, which takes places in Lesotho – The Kingdom in the Sky, starting on April 3rd.]