Zoot Sports supports athlete Zeinab Rezaie who will be first-ever Afghan woman to toe the line at The IRONMAN 70.3 World Championship
October 25, 2022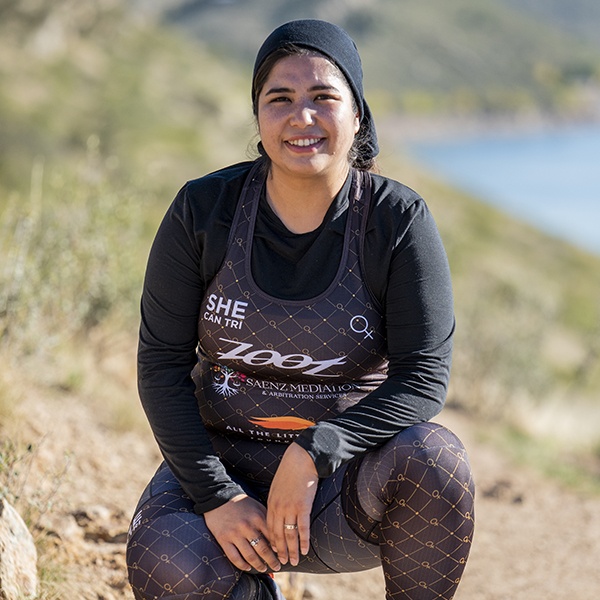 /SPORTSWIRE WOMEN/ – Zeinab Rezaie will become the first-ever Afghan woman to start an Ironman World Championship on October 28, 2022, in St. George, UT. Zoot is proud to help support Zeinab by creating custom race apparel to meet Zeinab's specific needs. With the help of the organization She Can Tri Zeinab will be the first Afghan woman to race at this level in the face of the Taliban's announcement that girls in her country are not allowed to go to school past the age of 12 and women in public must wear a burqa. Zeinab stands proud and proves that Afghan women belong on the international stage.
Zeinab has been training with She Can Tri, a non-profit that took her to training camps in Europe, the United Arab Emirates, and the United States since 2019. She Can Tri provides professional training, equipment, and event entries to female triathletes in countries like Afghanistan and Kenya, helping them step into the spotlight and promote positive change in their home countries. With the initial goal of racing at a world championship, Zeinab's journey has had immense challenges, including a global pandemic and the Taliban's takeover of Afghanistan.
"When we recruited four Afghan women to train as their country's first triathletes, we had no idea that a worldwide pandemic and government takeover would be added to the mix – as if training in a country where women already have to struggle for basic rights was not challenging enough," said Jackie Faye, founder of She Can Tri. "From day one, we said we wanted to go to the IRONMAN 70.3 World Championship, and four years later, it will be a reality."
"When I met Zeinab in 2018, I was attempting to become the first woman in the world to do six IRONMANs on six continents within one year. I was so moved by her journey. Her experience, and her life, helped me put my own goal into perspective. After I completed my goal, I did not feel special, honestly, I thought what I accomplished was easy, and I thought if I could empower an Afghan woman to compete in the IRONMAN 70.3 World Championship, well, that would really be something. That would be hard. Looking back over the past four years with Zeinab, from running the Marathon of Afghanistan to swimming in the local pools to flying in with bicycles from Dubai to help her train, to celebrating Eid with her family, to helping her evacuate when the Taliban took over, to hugging her neck when she landed in America. I'm so incredibly proud of the work we have done." – Jackie Faye
Zeinab is also a Fulbright scholar earning her MBA at Colorado State University and paving the way for women worldwide. She is racing to be an example and inspiration for women worldwide.
"Last month, an attack on an educational center in Kabul left more than 100 students dead or injured. Most of them Hazara girls, a Shiite minority in Afghanistan. I'm racing for them because I am them. I am an Afghan woman. I am Hazara. I am Shiite. I'm racing for all the individuals who are persecuted every day and killed simply for being themselves. And what I love about sports is that it shows that no matter what background we come from, we can not only exist in peace, but we can work towards a common goal in peace," says Zeinab.
President of Zoot Sports, Shawn O'Shea said, "Working in collaboration with Zeinab to create a high-performance race kit that honored her specific needs is what we love to do at Zoot. We believe that triathlon should be accessible to people across all backgrounds, cultures, and traditions."
Support Zeinab's journey to the finish line and fund equality in sport when you make a donation to She Can Tri: https://shecantri.org/athletes-1