Elite Distance Runner Kate Sanborn signs agency contract with Elite Runner Management
February 11, 2022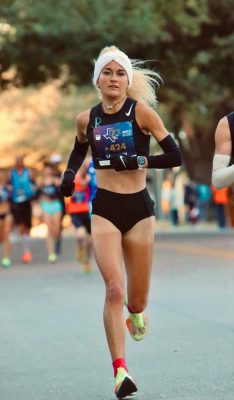 Sanborn also inks deal with Tracksmith ASP
/SPORTSWIRE WOMEN/ – Kate Sanborn, an Olympic Trials qualifier and 2:33 marathoner, has signed an agency contract with Elite Runner Management (ERM), the Michigan based sports agency headed by Chris Mengel. It was also announced today that Sanborn will be sponsored by Tracksmith, the Boston-based independent running brand.
"It's a privilege to have the opportunity to work with a young talent like Kate, and to add her to the mix of accomplished athletes represented by ERM," Mengel said. "At only twenty-four, Kate has already proven that she has the ability to compete at this level and have an outstanding professional career. I am excited to collaborate with her moving forward."
At 22, Sanborn was one of the youngest athletes to compete at the 2020 Olympic Marathon Trials in Atlanta. She earned her qualifier by finishing 3rd in her debut marathon in Richmond, VA as part of the United States Military Academy's marathon team, setting the West Point women's marathon record. After placing 15th at the USATF Half Marathon Championships this past December, Sanborn shaved nearly eight minutes off her marathon personal best when she ran negative splits at this year's Chevron Houston Marathon in a time of 2:33:41 finishing 11th, earning her second Trials qualifier.
"After my performance in Houston, it became fairly clear that I should take on an agent," Sanborn said. "While I explored a few options, Chris Mengel was by far the most personable agent I spoke with. He has a genuine interest in me, not only in my ability as a runner, but as a person in general. And as importantly, our running philosophies align. Quite honestly, it was hard to think of a reason to not want Chris as my agent."
In addition to signing with Elite Runner Management, Sanborn announced that Tracksmith will be her sponsor. "Tracksmith provides quality running gear, style, and inspiration to those pursuing athletic excellence, and that is something I can fully get behind – especially since they are an independent running brand genuinely built on a deep love of the sport," said Sanborn.
Currently enrolled as a full-time graduate student in a Masters degree program in statistics at North Carolina State University in Raleigh, NC, Sanborn is also doing research as a biostatistician for Duke University. Sanborn, who is coached by Ryan Warrenburg of ZAP Endurance, will run a 10K and a to-be-announced half marathon in March. In April, Sanborn will then race in the elite field at the 126th Boston Marathon on Patriots Day. It will be her first World Marathon Major. "I have no time standard in mind for Boston. I plan to race within my capabilities and race smart," Sanborn said. The name of the game is to see just how far up I can get and continue to race to my fullest potential on the day. That being said, I aim to never count myself out and give myself a shot."
###
For questions, interviews or further information, contact:
Chris Mengel, Elite Runner Management
313-492-5861 or eliterunnermanagement@gmail.com